classic miso soup
with tofu, green onion and crispy wakame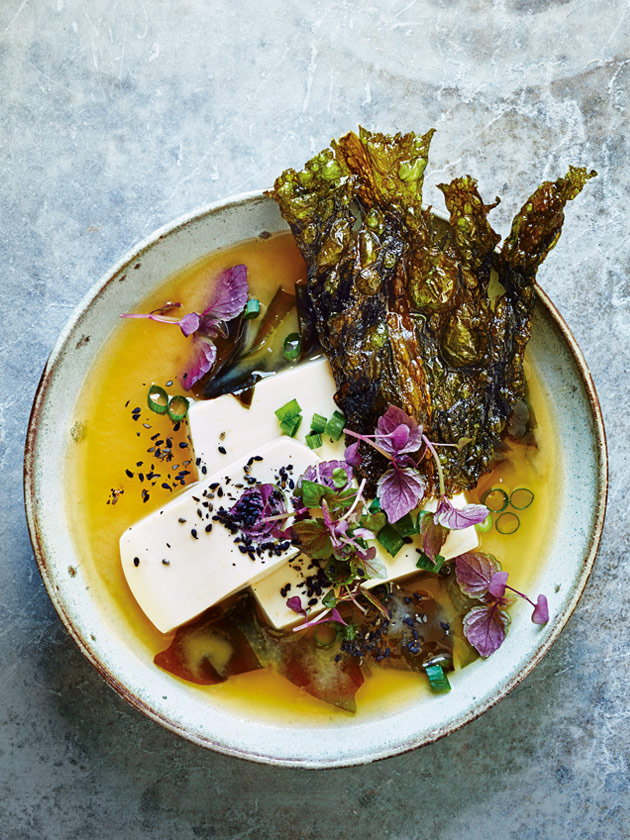 1.5 litres water

6 green onions (scallions), cut into 6cm lengths

15cm-piece dried kombu (dried seaweed), rinsed and drained+

⅓ cup (70g) white miso paste

½ cup dried wakame+

sea salt flakes

½ cup (125ml) vegetable oil

1 tablespoon sesame oil

300g silken tofu, cut into cubes

2 green onions (scallions), extra, thinly sliced to serve

black sesame seeds, crushed, to serve

micro (baby) purple shiso leaves, to serve

Place the water, onion and kombu in a large saucepan over high heat and bring to the boil. Reduce the heat to medium and simmer for 20 minutes. Remove the kombu and onion and discard. Add the miso and mix to combine. Keep warm.

Place the wakame in a medium bowl and cover with water. Set aside to soak for 10 minutes. Remove the wakame from the water. Roughly chop half and add it to the soup. Pat the remaining wakame dry and sprinkle with salt.

Heat the oils in a small non-stick frying pan over high heat. Add the wakame, in batches, and cook for 1–2 minutes or until crisp. Remove and drain on paper towel. Divide the soup and tofu between bowls. Top with onion, crispy wakame, sesame and shiso to serve. Serves 6.
+ Kombu and wakame are dried seaweed varieties available from Asian supermarkets, specialty grocers and health food stores.
There are no comments for this entry yet.