dukkah-roasted cauliflower salad
with creamy avocado dressing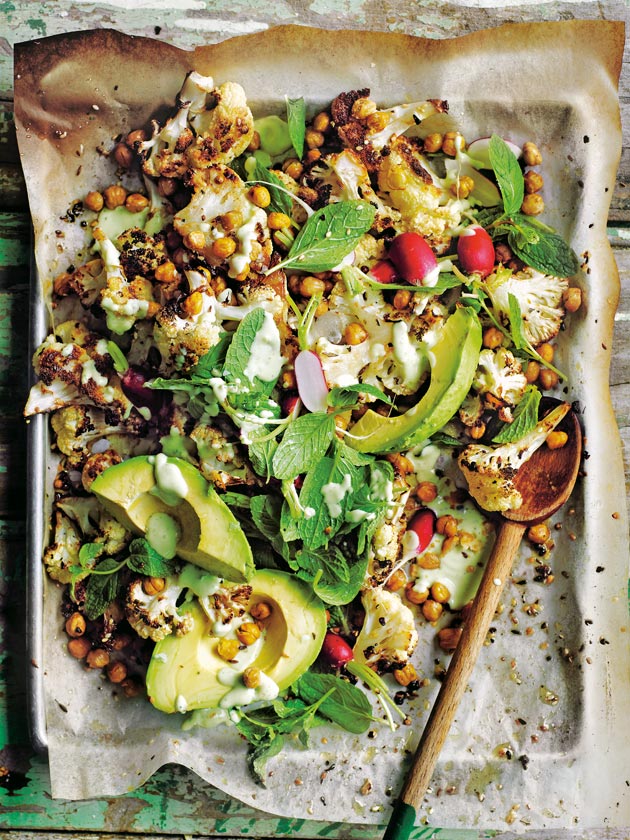 800g cauliflower florets

2 x 400g cans chickpeas (garbanzos), drained and rinsed

¼ cup (60ml) olive oil

1 tablespoon dukkah

1 teaspoon sea salt flakes

2 avocados, halved and quartered

½ cup (140g) natural Greek-style (thick) yoghurt

2 tablespoons dill sprigs

1 tablespoon lemon juice

¼ cup (60ml) water

1 bunch breakfast radishes, halved+

1 cup mint leaves

Preheat oven to 220°C (425°F). Place the cauliflower and chickpeas on 2 large baking trays lined with baking paper and drizzle with the oil. Top with the dukkah and salt and toss to combine. Roast for 18–20 minutes or until golden brown.

To make the dressing, place 1 avocado half in a medium bowl. Add the yoghurt, dill, lemon juice and water. Using a hand-held blender, blend until smooth and creamy.

Top the cauliflower and chickpeas with the radish, mint and remaining avocado. Drizzle with the creamy avocado dressing to serve. Serves 4.
+ Breakfast radishes are a cylindrical variety of radish with a mildly spicy flavour. You can substitute with thinly sliced regular radishes.
Photography: Chris Court
There are no comments for this entry yet.