harissa roasted eggplant
with black lentil and herb salad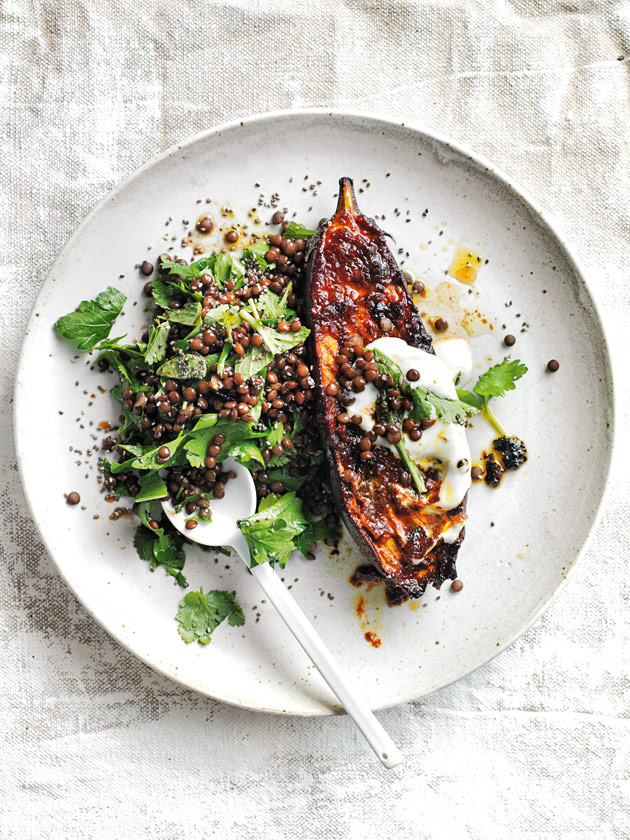 3 eggplants (aubergines) (840g), halved lengthways and flesh scored

1 tablespoon harissa

2 cloves garlic, crushed

2 tablespoons pomegranate molasses+

2 tablespoons finely grated lemon rind

extra virgin olive oil, for drizzling

1 cup (210g) black lentils

2 cups (500ml) water

1 cup flat-leaf parsley leaves, roughly chopped

1 cup coriander (cilantro) leaves, roughly chopped

1 cup mint leaves, roughly chopped

¼ cup (50g) chia seeds

plain Greek-style (thick) yoghurt, to serve

dressing
¼ cup (60ml) extra virgin olive oil

2 tablespoons balsamic vinegar

1 tablespoon pomegranate molasses
¼ cup (60ml) lemon juice

To make the dressing, place the oil, vinegar, pomegranate molasses and lemon juice in a bowl, whisk to combine and set aside. Preheat oven to 170°C (340°F). Place the eggplant, cut-side up, on a baking tray lined with non-stick baking paper. Place the harissa, garlic, pomegranate molasses and lemon rind in a bowl and mix to combine. Spoon over the eggplant, drizzle with oil and roast for 1 hour or until tender.

Place the lentils and water in a small saucepan over high heat and bring to the boil. Reduce the heat to medium, cover with a tight-fitting lid and simmer for 20 minutes or until just tender. Drain and refresh under cold running water.

Place the lentils, parsley, coriander, mint and chia seeds in a large bowl. Top with the dressing and toss to combine. Divide the eggplant between serving plates and spoon over the salad. Top with yoghurt to serve. Serves 6

+ You can find pomegranate molasses in middle eastern and specialty food stores.
Photography: Chris Court
Avis Cardoz
I tried this today and my family absolutely loved it…I love your cooking Donna hay…make life always simpler
Simone Sullivan
Loved this recipe! Couldn't find pomegranate molasses but had maple syrup and grapefruit in the fridge so substituted, was still delicious.