panko-crumbed chicken
with sticky soy and sesame rice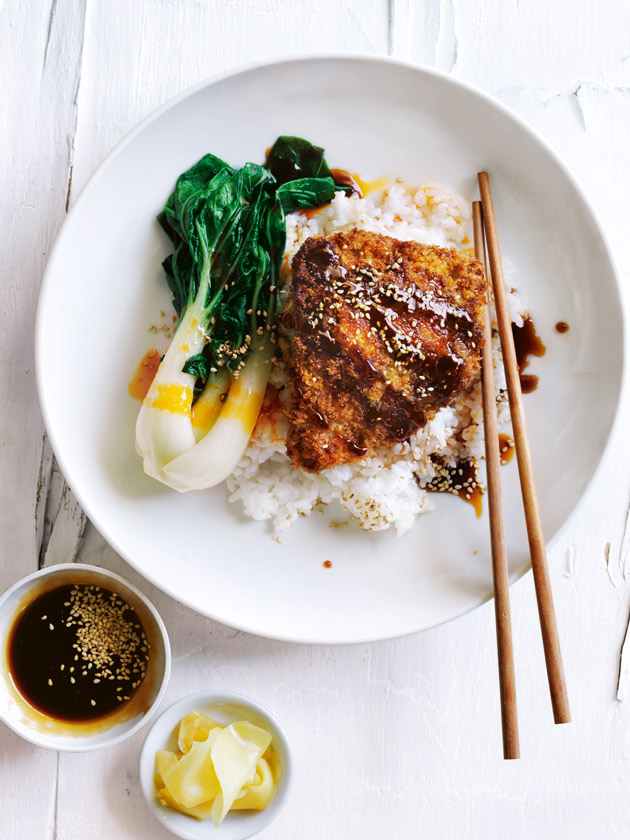 1½ cups (300g) sushi rice, rinsed and drained

3 cups (750ml) water

1 tablespoon sesame oil

2 eggs, lightly beaten

2 cloves garlic, crushed

¼ cup (60ml) soy sauce

2 cups (140g) panko (Japanese) breadcrumbs

4 x 160g chicken thighs, bone-in

vegetable oil, for shallow-frying

¼ cup (90g) honey

1 tablespoon lemon juice

steamed white stem bok choy, to serve

pickled ginger, chilli oil and sesame seeds, to serve

Preheat oven to 200°C (400°F). Place the rice, water and 2 teaspoons of the sesame oil in a medium saucepan over high heat. Bring to the boil, reduce heat to medium, cover with a lid and cook for 12 minutes. Remove from the heat and set aside, covered, for 5 minutes.

While the rice is cooking, place the egg, garlic and 1 tablespoon of the soy sauce in a shallow bowl. Place the breadcrumbs in a separate shallow bowl. Toss the chicken in the egg mixture and press into the crumbs to coat. Heat 2cm of vegetable oil in a large frying pan over high heat. Add the chicken and cook for 3 minutes each side or until light golden. Transfer to an oven tray and cook for 10 minutes or until golden brown and cooked through.

Drain off the oil, wipe the pan clean and return to high heat. Add the honey, lemon juice, remaining sesame oil and soy sauce to the pan and cook for 6 minutes or until sticky. Serve the chicken with the sesame rice, steamed bok choy, pickled ginger, chilli oil and sesame seeds. Serves 4.

There are no comments for this entry yet.