prosciutto-wrapped chicken
with herbed sour cream and crispy potatoes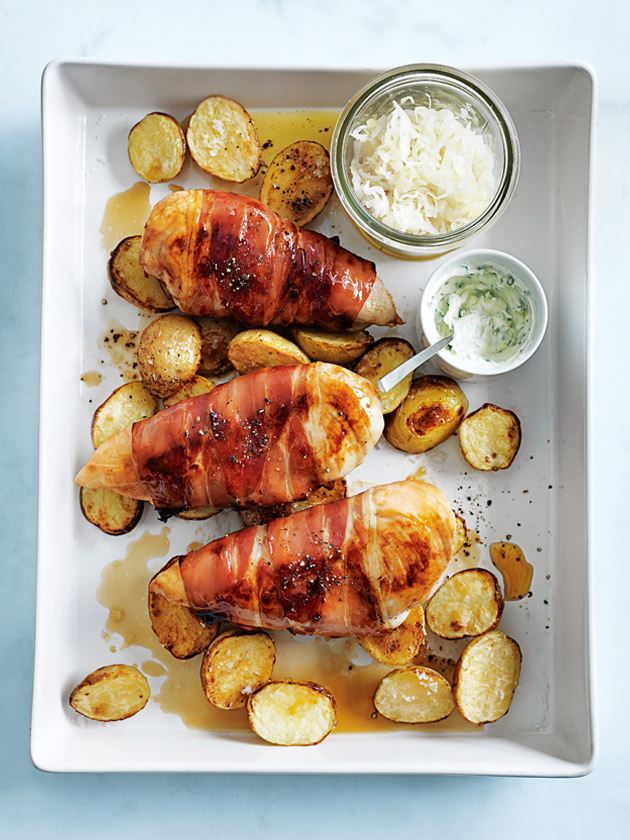 4 x 200g chicken breast fillets, trimmed

8 slices prosciutto
500g baby (chat) potatoes, halved

sea salt and cracked black pepper

1 tablespoon extra virgin olive oil

½ cup (120g) sour cream

2 tablespoons finely chopped chives

1 tablespoon finely chopped parsley leaves

2 cups (360g) store-bought sauerkraut, warmed

Preheat oven to 220°C (425°F).

Wrap each chicken breast with 2 slices of the prosciutto and place on a lightly greased oven tray.

Place the potato, salt, pepper and oil in a roasting pan and toss to coat.

Place the prosciutto-wrapped chicken and potato in the oven and cook, turning halfway, for 20 minutes or until golden and cooked through.

Place the sour cream, chives, parsley, salt and pepper in a small bowl and mix to combine.

Serve the chicken with potatoes, sauerkraut and herbed sour cream. Serves 4.

There are no comments for this entry yet.