quinoa sushi with spicy salmon and avocado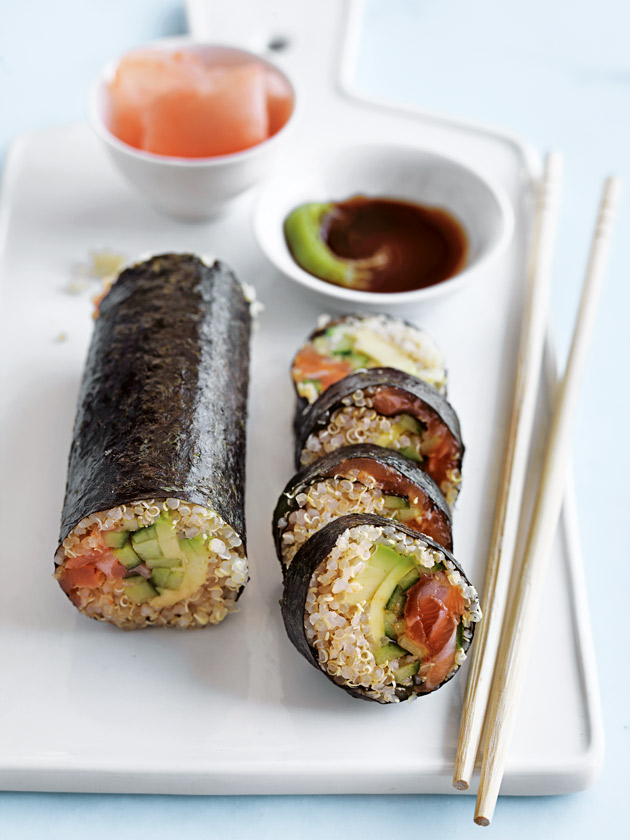 1½ cups (300g) quinoa

3 cups (750ml) water

2 tablespoons rice wine vinegar

2 tablespoons mirin (Japanese rice wine)

1 teaspoon sea salt flakes

300g sashimi-grade salmon, thinly sliced

¼ cup (80g) Asian chilli jam

1 tablespoon sesame oil

6 sheets nori (dried seaweed)

1 avocado, thinly sliced

2 Lebanese cucumbers, cut into matchsticks

pickled ginger, wasabi and soy sauce, to serve

Place the quinoa and water in a large saucepan over high heat. Bring to the boil. Reduce heat to low, cover and cook for 15 minutes or until the quinoa is cooked and water has been absorbed. Set aside to cool slightly. Place the vinegar, mirin and salt in a small bowl or jug and stir to combine. Pour the mixture over the quinoa, mix to combine and set aside to cool completely.

Place the salmon, chilli jam and sesame oil in a medium bowl and toss to coat. Set aside.

To assemble, place a sheet of nori on a sushi mat and spread evenly with ⅔ cup (110g) of the quinoa, leaving a 3cm border at the top of the sheet and pressing down with damp hands. Top each sheet with a few slices of the avocado, cucumber and salmon.

Brush the clean edge of the nori with water, roll tightly to enclose and slice into rounds. Repeat with remaining ingredients. Serve with the pickled ginger, wasabi and soy sauce. Makes 6.

There are no comments for this entry yet.