roasted pumpkin, feta and quinoa salad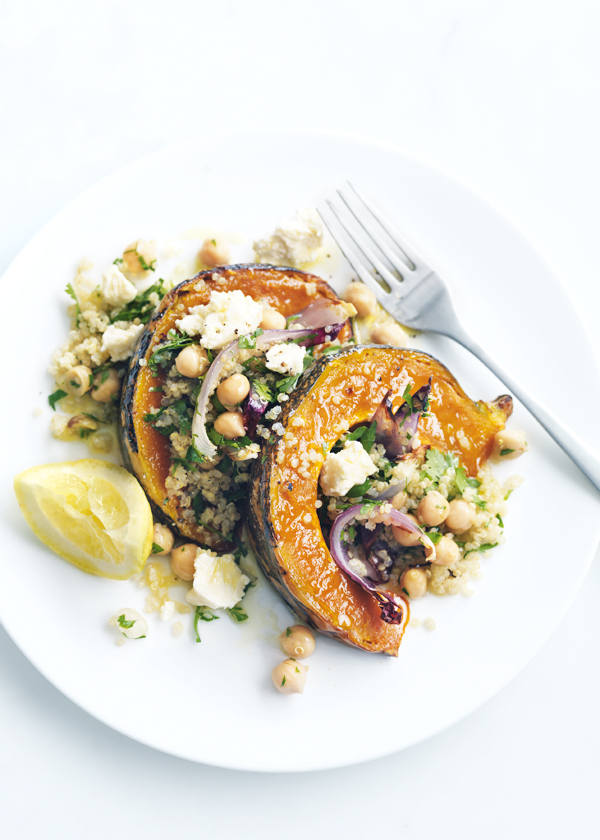 2 cups (400g) quinoa
1kg Jap pumpkin, cut into wedges
2 tablespoons olive oil
1 red onion, cut into wedges
¼ cup (60ml) white wine vinegar
2 teaspoons caster (superfine) sugar
⅓ cup chopped coriander (cilantro) leaves
1 x 400g can chickpeas (garbanzos), drained and rinsed
marinated feta, crumbled, to serve
Soak the quinoa in a saucepan with 3 cups (750ml) water for 15 minutes. Place the saucepan over high heat and bring to the boil. Reduce heat to low and cook, covered, for 15 minutes or until all the water is absorbed. Set aside.

Preheat oven to 220°C (425°F). Place the pumpkin and half the oil on a baking tray and toss to coat. Roast for 10 minutes.

Add the onion and roast for a further 10–15 minutes or until pumpkin is tender. Mix to combine the vinegar, sugar, coriander, chickpeas and quinoa. Top with pumpkin, onion and feta to serve. Serves 4.

demelza murphy
Amazing, easy and healthy! We love it!
Melanie Colvin
Another super quick and easy dish to prepare. I did make some adjustments to suit us…cubed the pumpkin, and added diced streaky bacon at the second oven point. Cooked Brocoli as normal on the stove top and combined at serving time. Yummy!