scotch fillet steak with sage salt,
mushrooms and burrata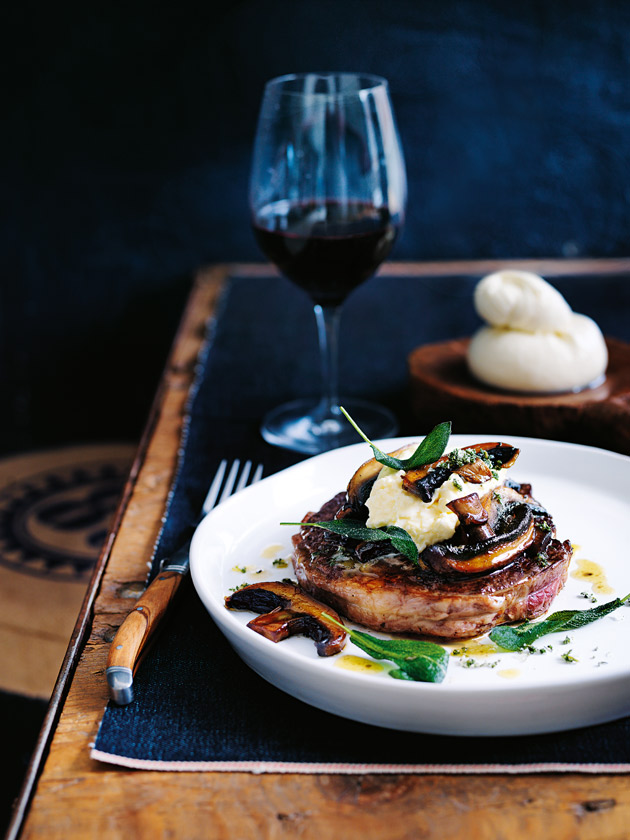 2 tablespoons extra virgin olive oil, plus extra, for brushing

¼ cup sage leaves

60g unsalted butter

400g Portobello mushrooms, sliced

sea salt and cracked black pepper

2 x 250g scotch fillets, trimmed and at room temperature

1 x 250g burrata or buffalo mozzarella, torn

sage salt
½ bunch sage leaves, roughly chopped

1 tablespoon sea salt flakes

To make the sage salt, place the sage and salt in a food processor and process until combined. Set aside. Heat the oil in a large frying pan over high heat. Add the sage leaves and cook for 1 minute or until crisp. Drain on absorbent paper. Add the butter, mushroom, salt and pepper to the pan and cook, stirring occasionally, for 4–6 minutes or until golden. Set aside and keep warm.
Brush the steaks with oil and sprinkle with pepper. Heat a non-stick frying pan over high heat. Cook the steaks for 2–3 minutes each side for medium-rare or until cooked to your
liking. Top with the burrata, mushroom, crispy sage and sage salt to serve. Serves 2.

There are no comments for this entry yet.