smoky prawns with israeli couscous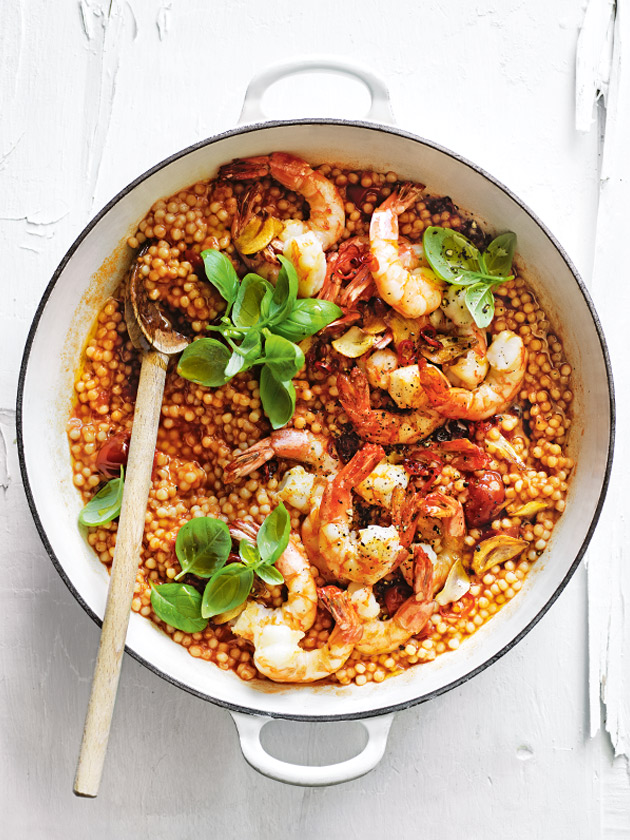 16 green (raw) tiger prawns (shrimp), peeled

1 long red chilli, thinly sliced

1 tablespoon thyme leaves

2 cloves garlic, thinly sliced

1 tablespoon extra virgin olive oil

1 teaspoon finely grated lemon rind

sea salt and cracked black pepper

1 cup (180g) Israeli (pearl) couscous

1¾ cups (430ml) boiling water

400g can cherry tomatoes

½ teaspoon smoked paprika

basil leaves, to serve

Preheat oven to 220°C (425°F). Place the prawns, chilli, thyme, garlic, oil, lemon rind, salt and pepper in a large bowl and toss to combine. Heat a large, heavy-based ovenproof frying pan over high heat. Add the prawns and cook, turning, for 2 minutes. Remove and set aide.

Add the couscous, water, tomatoes, paprika, salt and pepper to the pan and mix to combine. Add the prawns, cover with a lid and cook in the oven for 15 minutes or until couscous is tender. Top with basil to serve. Serves 4.

There are no comments for this entry yet.