sticky sesame and ginger pork meatballs
with soba noodles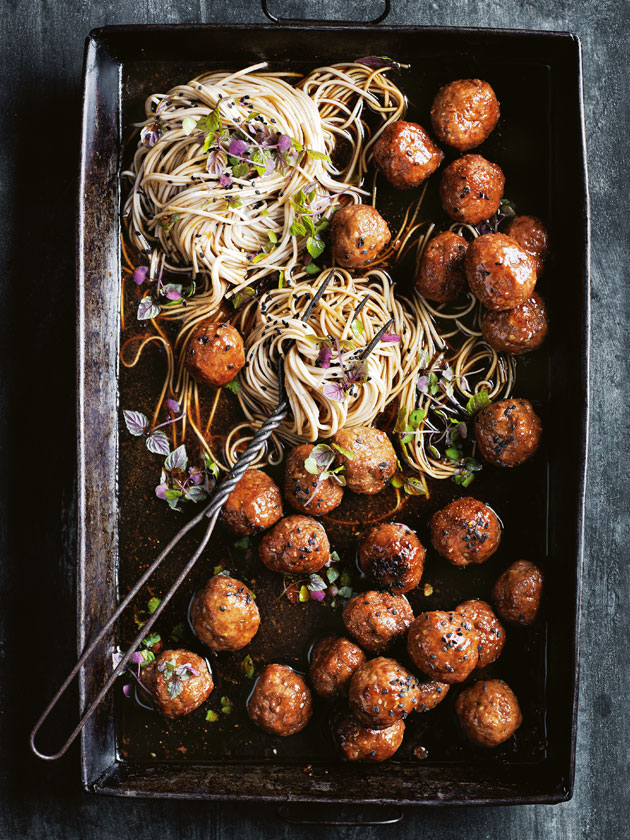 800g pork mince

½ cup (35g) panko (Japanese) breadcrumbs

2 cloves garlic, crushed

2 tablespoons finely grated ginger

2 teaspoons sesame seeds

2 teaspoons sesame oil

1 teaspoon shichimi togarashi+, plus extra to serve

2 green onions (scallions), finely chopped

1 egg, lightly beaten

sea salt and cracked black pepper

1 tablespoon vegetable oil

270g soba noodles, cooked, to serve

baby (micro) purple shiso leaves and black sesame seeds, to serve

sticky soy sauce
1 tablespoon dashi powder

½ cup (125ml) soy sauce

¾ cup (180ml) mirin (Japanese rice wine)

2 teaspoons sesame oil

2 tablespoons rice wine vinegar

¼ cup (90g) honey

Preheat oven to 220°C (425°F). Place the pork, breadcrumbs, garlic, ginger, sesame seeds, sesame oil, shichimi togarashi, green onion, egg, salt and pepper in a large bowl and mix well to combine. Place a large deep-sided roasting tray in the oven for 5 minutes or until hot.
Roll tablespoonfuls of the pork mixture into balls and set aside. Pour the oil into the hot tray, add the meatballs and cook for 5 minutes. To make the sticky soy sauce, place the dashi, soy sauce, mirin, sesame oil, vinegar and honey in a small bowl and mix to combine.
Remove the tray from the oven, add the dashi mixture and carefully toss to coat the meatballs. Cook for 15 minutes or until the sauce is sticky and the meatballs are golden. Serve the meatballs with the noodles and sprinkle with the shiso leaves, sesame seeds and extra shichimi togarashi. Serves 4–6.

+ Shichimi togarashi is a Japanese spice mixture. It's available in the Asian aisle of supermarkets and in Asian grocers.
There are no comments for this entry yet.