creamy slow-cooked chicken curry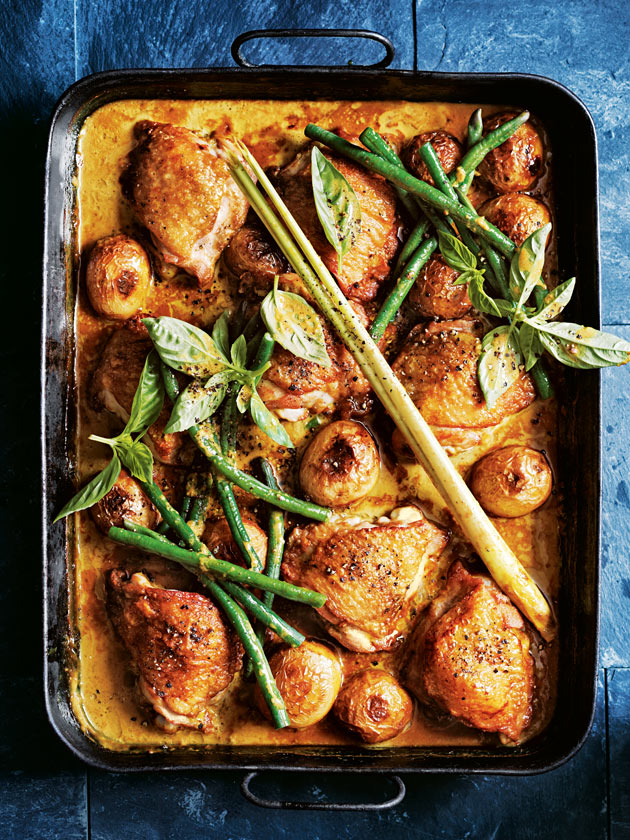 500g chat (baby) potatoes

8 chicken thighs, skin-on and bone-in

sea salt flakes

1 tablespoon extra virgin olive oil

2 cups (500ml) chicken stock

400ml can coconut milk

1 stalk lemongrass, split

¼ cup (60ml) kecap manis (sweet soy sauce)

basil leaves, to serve

200g snake beans, blanched
curry paste
4cm-piece (25g) fresh turmeric, chopped

10cm-piece (50g) fresh ginger, chopped

6 cloves garlic

6 x 5cm coriander (cilantro) roots, chopped

1 long red chilli, chopped

2 tablespoons tamarind paste

½ teaspoon shrimp paste

1 tablespoon caster (superfine) sugar

2 eschalots (French shallots)

Preheat oven to 200°C (400°F). Place the potatoes and chicken, skin-side up, in a deep-sided roasting tray. Sprinkle with salt, drizzle with oil and cook for 30 minutes.

To make the curry paste, place the turmeric, ginger, garlic, coriander, chilli, tamarind paste, shrimp paste, sugar and eschalots in a small food processor and process, scraping down the sides, until a smooth paste forms.

Remove the chicken from the tray. Add the curry paste, stock, coconut milk, lemongrass and kecap manis to the tray and mix to combine. Return the chicken to the tray, skin-side up. Cook for 40 minutes or until the potatoes are golden and the chicken is tender. Top with basil and pepper, and serve with snake beans. Serves 4–6.

Kerry Anderson
This is definately in my top favourite recipes of yours Donna. Easy to make, and absolutely delicious. Everyone I've made it for has asked for the recipe. Not spicy at all and just divine! Thank you so much for this one.