honey mustard chicken and potato bake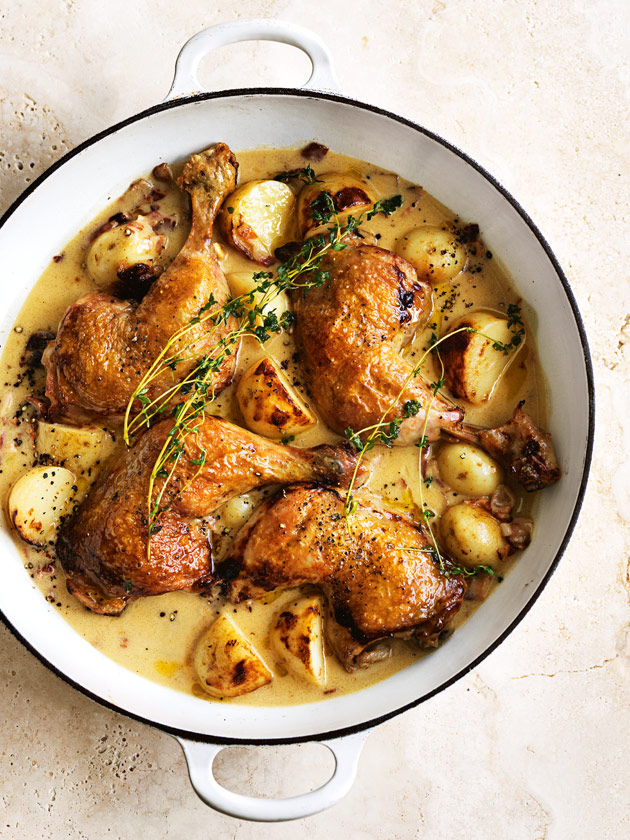 1 tablespoon extra virgin olive oil

4 chicken marylands (1kg)

sea salt and cracked black pepper

250g streaky bacon, thinly sliced

600g chat (baby) potatoes, halved

1 cup (250ml) single (pouring) cream

⅓ cup (95g) honey mustard

1 cup (250ml) water

6 sprigs thyme

Preheat oven to 200°C (400°F). Heat the oil in a large flameproof, ovenproof frying pan over high heat. Sprinkle the chicken with salt and pepper and cook for 4 minutes each side or until golden. Remove from the pan and set aside.

Add the bacon and potato to the pan and cook for 6 minutes or until golden. Add the cream, mustard and water and return the chicken to the pan. Bring to a simmer and cover with a lid.
Cook in the oven for 10 minutes. Remove the lid, add the thyme and cook for a further 10 minutes or until chicken is golden and potato is cooked through. Serve. Serves 4.

donna hay team
Hi Vanessa, if you can not find honey mustard, you could use 2 tablespoons honey and 2 tablespoons Dijon mustard. Happy cooking!
Vanessa Glendenning
It seems that honey mustard is not available anywhere in any brand at the moment. What are the alternatives please?
Melanie Colvin
Love this one too! I used boneless, skinless thigh meat and added veg stock powder to the water.
donna hay team
Hi Donna and Gayle! We use supermarket brand honey mustard - masterfoods sell a brand if you live in Australia. Happy cooking!
Caroline Graham
Just made this tonight. Absolutely delish! Served with sauteed snowpeas with lots of butter, kosher salt and a slurp of honey. Yummy.
Jesse Mackenzie-Wyer
Donna Hay you're a genius! Just had a 'What do you call this, Love?' moment, whole family devoured it! Thank you
Vicky Quinn
My family loved this. Will definitely be making again!!!
Gayle Staiger
As per Donna's comment below, I too would like to know what sauce you use for the 1/2cup of honey mustard in this recipe please?
Michael Johnson
I can't wait to make this. I am fructose intolerant and Can't have honey, but it will taste awesome with maple syrup I am sure.
Alison McKay
What would be a good substitute for the cream if I'm serving to a dairy free friend? Coconut cream?
Donna Leahy
What sauce do you use when it says honey mustard?
Tessa Kinchington
Delicious! Great for a group, received lots of compliments!
Tags:
bacon
,
chicken
,
dinner
,
gatherings
,
honey
,
mustard
,
potato
,
potato bake
,
savoury
,
thyme
,