milk-braised dijon chicken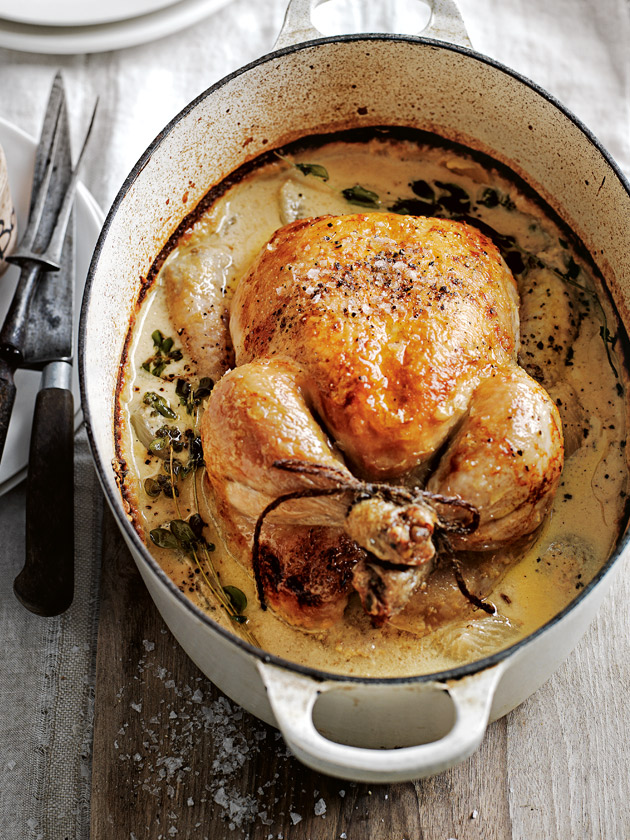 1 tablespoon extra virgin olive oil

1 x 1.6kg chicken, tied

sea salt and cracked black pepper

½ cup (140g) Dijon mustard

2 teaspoons mustard powder

2 cups (500ml) milk

1¼ cups (310ml) chicken stock

1 teaspoon fennel seeds

3 strips lemon rind

6 sprigs marjoram

4 pickling onions, peeled and halved

Preheat oven to 200°C (400°F). Heat the oil in a large heavy-based ovenproof saucepan. Sprinkle the chicken with salt and pepper, add to the pan and cook, turning, for 8–10 minutes or until golden.

While the chicken is cooking, place the mustard, mustard powder, milk and stock in a large jug and whisk to combine. Add the milk, mixture to the pan, and add the fennel seeds, lemon rind and marjoram.

Place in the oven and cook for 1 hour. Add the onion and cook for a further 30 minutes or until the chicken is tender and golden. Sprinkle with pepper to serve. Serves 4–6

donna hay team
Hi Amy, the chicken is best cooked facing up (see the image for reference). As each oven is different, you do not need to seal/cover the chicken unless it is starting to brown too much towards the end of the cooking time. Happy cooking!
Amy G
Just wondering, are you supposed to seal/cover the pan whilst it is in the oven? and does it matter which way up the chicken is in the pan?
Sab Findlay
This was fantastic. Quick, amazing depth of flavour, fed 3 women with loads of leftovers. I substituted the onions with 3 shallots and used Thyme instead of Marjoram. I steamed green beans and added them at the last minute. I served it on toasted baguette in a soup bowl, topped with toasted almonds and creme fraiche. Utterly scrummy and super easy for a casual dinner party at home. Will be making on the regular this autumn/winter.
Melanie Pye
Super yummy dish - very easy to make - and could have come from a 5 star restaurant. I put my onions and a few potatoes I had left over in the dish at the beginning. I only needed to cook the chicken for 1 hour - it was moist and succulent! Yum Yum