roast chicken with marsala,
sage, mushroom and creamy semolina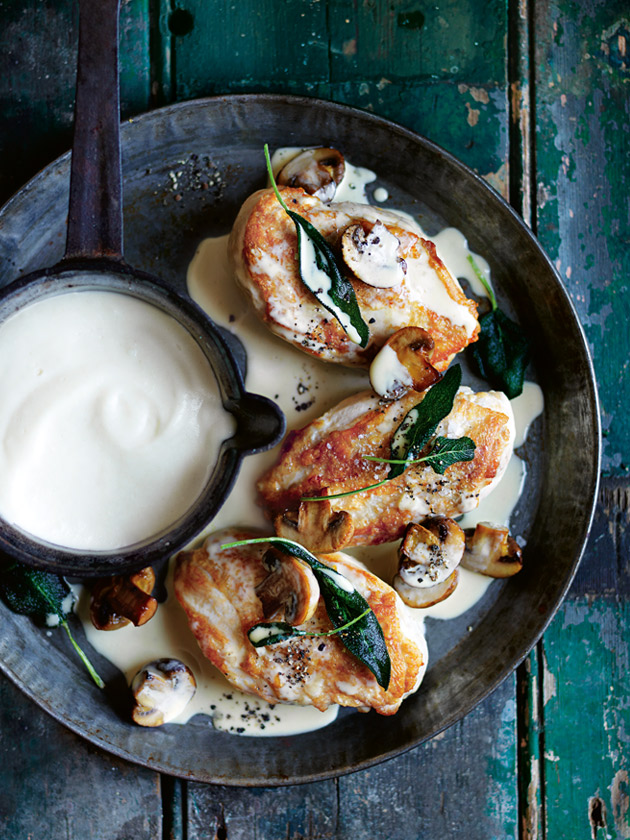 2 tablespoons extra virgin olive oil

½ bunch sage, leaves picked

4 x 220g chicken breast fillets, skin on

sea salt and cracked black pepper

3 cloves garlic, crushed

400g Swiss brown mushrooms, sliced

1 cup (250ml) almond milk

¼ cup (60ml) marsala

creamy semolina
2½ cups (625ml) milk

20g unsalted butter

½ cup (80g) semolina

½ cup (125ml) single (pouring) cream

Preheat oven to 200°C (400°F). Heat the oil in a heavy-based shallow ovenproof pan over high heat.

Add the sage and cook for 30 seconds or until crisp. Remove from the pan and set aside.

Sprinkle the chicken with salt and pepper and cook for 2 minutes each side or until lightly browned. Remove from the pan and set aside.

Add the garlic and mushroom and cook for 6–7 minutes or until browned. Add the chicken, almond milk and marsala and stir to combine. Bring to the boil, transfer

to the oven and cook for 12–15 minutes or until cooked through.

To make the creamy semolina, place the milk and butter in a large saucepan over high heat and bring to the boil.

Gradually whisk in the semolina, whisking constantly until the mixture thickens. Remove from the heat, add the cream, and whisk to combine.

Serve the chicken with the creamy semolina and crispy sage. Serves 4.

donna hay team
Hi Kristy, we wouldn't recommend using another white wine. It would be better to use a dry cherry or brandy. The DH Team.
Kristy Coleman
Is it okay to substitute the marsala with another white wine?