slow-cooked beef ragu pasta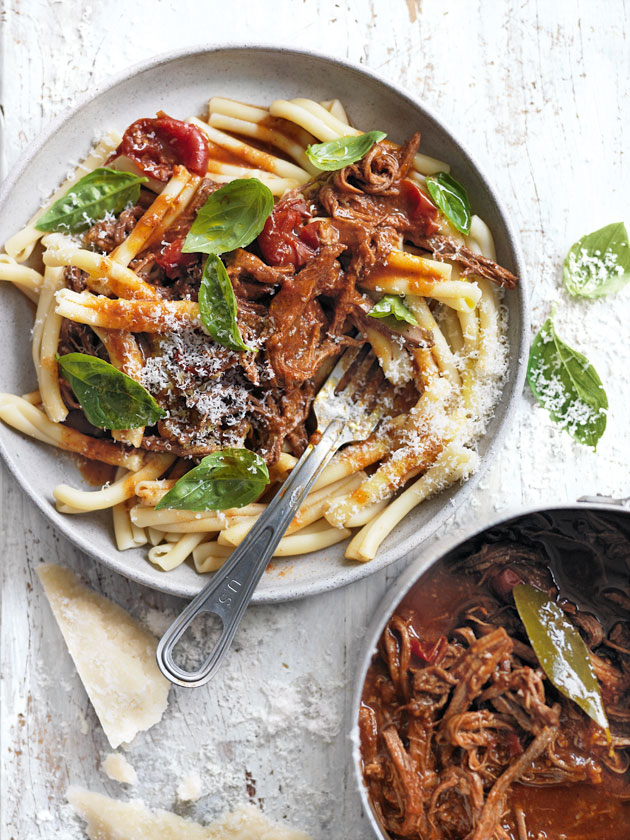 1kg beef brisket, cut into 4 pieces
plain (all-purpose) flour, for dusting
¼ cup (60ml) extra virgin olive oil
1 brown onion, thickly sliced
3 cloves garlic, peeled
1 cup (250ml) dry red wine
2 cups (500ml) beef stock
1 cup (250ml) water
1 x 400g can cherry tomatoes
4 bay leaves
2 tablespoons tomato paste
1 tablespoon caster (superfine) sugar
400g caserecci pasta, or rigatoni (see tip)
sea salt and cracked black pepper
½ cup basil leaves
finely grated parmesan, to serve

Preheat oven to 180ºC (350ºF). Dust the beef in flour, shaking to remove any excess. Heat 2 tablespoons of oil in a heavy-based saucepan over high heat. Cook the beef for 2–3 minutes each side or until browned. Remove from the pan and set aside.

Reduce heat to low, add the remaining oil, onion and garlic and cook for 6–8 minutes or until softened. Increase heat to high. Add the wine and cook, scraping the bottom of the pan, for 2–3 minutes or until liquid is reduced by half. Add the stock, water, tomatoes, bay leaves, tomato paste and sugar and stir to combine. Return the beef to the pan, cover with a tight-fitting lid, transfer to the oven and roast for 2 hours.

Remove the lid and roast for a further 30 minutes. Remove beef from the pan and shred the meat using 2 forks, discarding any fat. Return meat to the sauce and mix to combine. Set aside.

Cook the pasta in a large saucepan of salted boiling water for 10–12 minutes or until al dente. Drain, return to the pan with the beef sauce, salt, pepper and toss to combine. Top with basil and sprinkle with parmesan to serve. Serves 4–6
TIP:
Caserecci is a rustic rolled tube of pasta available from some supermarkets, Italian grocery stores and delicatessens. You can use rigatoni or pappardelle, too.
Photography: Chris Court
Andrea Flutter
Made this today and oh my goodness it came out beautifully! Husband and pre-schooler loved it too. It will be a regular for sure. Thanks so much x
Amanda MacGillivray
Nice recipe, my three kids (6yrs and under) all loved it and they are usually pretty hesitant with new food. I used a slow cooker which worked well, I just left out the extra cup of water (just used stock) and left it on low overnight as it needed longer in the slow cooker.
donna hay team
Hi Cat! Unfortunately we don't test recipes with a slow cooker so it is hard to tell if you need to adjust the recipe. If you take a look at the manufactures guide, it may have a few tips to help. Good luck!
Cat G
Can you cook this in a slow cooker?
Natasha Zizza
Another beautiful recipe. Simple but so flavoursome! I found 4 bay leaves a little overpowering. I might only use 2 next time. The basil was a nice addition to the dish. A new family favourite!!!