slow-roasted oregano lamb and 
potatoes
in parchment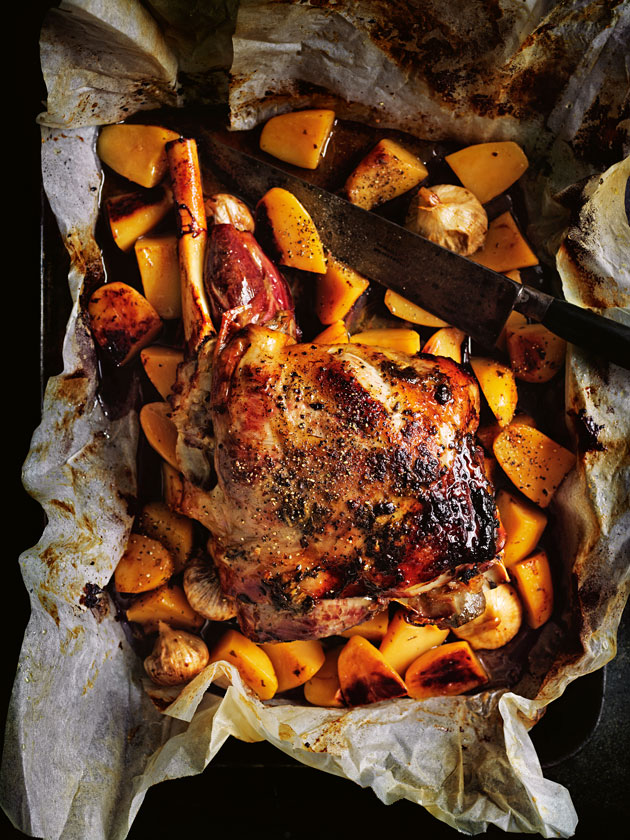 3 cloves garlic

4 anchovy fillets

⅓ cup oregano leaves

¼ cup (45g) brown sugar

2 tablespoons sherry vinegar

2kg lamb leg, bone in

1kg Dutch cream potatoes+, peeled and chopped

6 single-clove garlic bulbs++

1 sprig bay leaves

½ cup (125ml) white wine

1 tablespoon extra virgin olive oil

sea salt and cracked black pepper

Preheat oven to 200°C (400°F). Place the garlic, anchovy and oregano in a mortar and pound with a pestle until smooth. Add the sugar and vinegar and mix to combine.
Place in a large bowl with the lamb and toss to coat. Place the potato, garlic bulbs and bay leaves on 2 large sheets of aluminium foil lined with 2 large sheets of non-stick baking paper.
Place in a large roasting tray. Top with the lamb and wine, drizzle with the oil and sprinkle with salt and pepper. Fold the paper and foil to enclose tightly. Cook for 3 hours or until lamb is tender.
Open the paper and foil and cook for a further 15 minutes or until golden brown and caramelised. Serve. Serves 4–6.
+ You can use other waxy potatoes such as kipfler potatoes in place of Dutch cream.
++ Single-clove garlic is slightly larger than regular garlic cloves, however, if unavailable, you can use 8 cloves of regular garlic instead.
There are no comments for this entry yet.