chewy salted caramels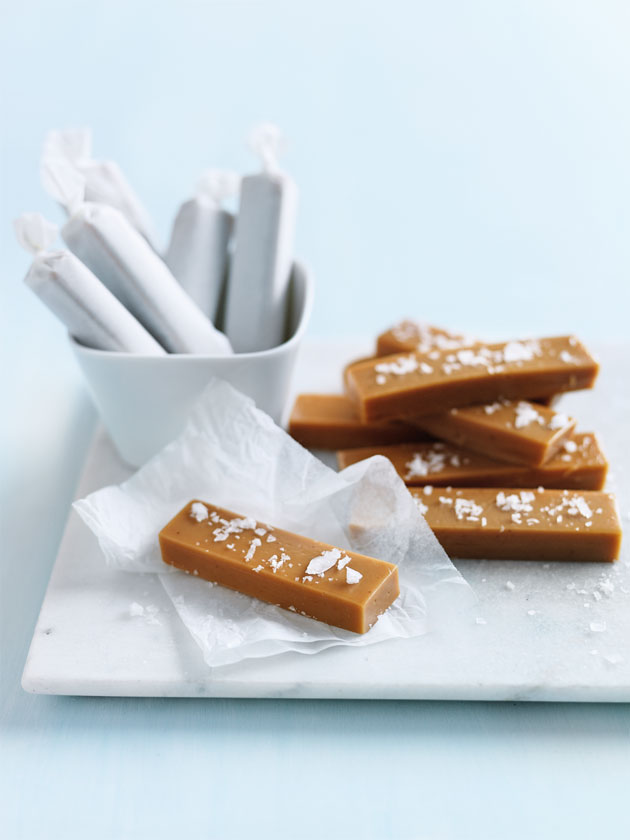 1 cup (250ml) double (thick) cream
¾ cup (180ml) condensed milk
1 cup (250ml) light corn syrup
1 cup (220g) caster (superfine) sugar
¼ cup (60ml) water
60g butter
sea salt flakes

Place the cream and condensed milk in a small saucepan over low heat and stir until just warm. Set aside and keep warm.
Place the corn syrup, sugar and water in a medium saucepan over high heat and stir until the sugar is dissolved. Insert a sugar thermometer, bring to the boil and cook until the temperature reaches 120ºC (250ºF). Reduce heat to medium, add the butter and warm cream mixture (the temperature will drop on the thermometer) and cook, stirring continuously to ensure the mixture does not stick, until the temperature returns to 120ºC (250ºF).
Remove the caramel from the heat and pour onto a well-greased 20cm-square baking tray. Sprinkle with the salt and allow to cool completely. Do not refrigerate. Turn caramel out and cut into thin fingers. Wrap in non-stick baking paper to serve. Makes 36.

donna hay team
Hi Tammy, unfortunately there is no substitute however most supermarkets sell double thick cream so it might be best to have a look around. Happy cooking! The DH team x
donna hay team
Hi Jessica, they will keep refrigerated and individually wrapped for up to 2 weeks. The DH team x
Tammy Geerdts
Hi-we do not have double cream in my area—is there a substitute?
Jessica Torpy
How long will these keep for? What is the best way to store them?
donna hay team
Unfortunalty there isn't an exact substitute for corn syrup. Liquid glucose which is available from supermarkets is the closest substitute readily available. Alternatively, you may be able to find corn syrup on-line. The DH team
Deena Elkilany
I'm having trouble finding corn syrup, is there a substitute?