raspberry sorbet ice-cream sandwiches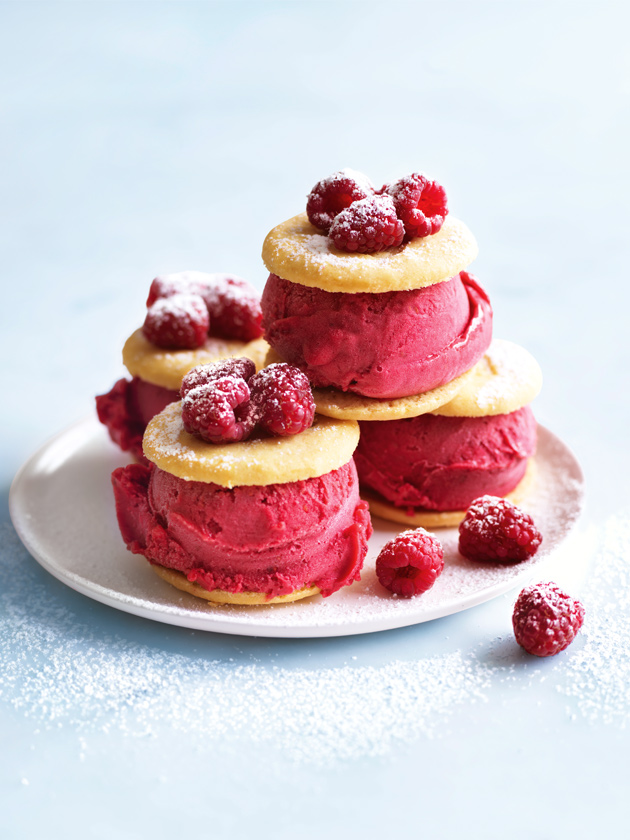 ½ cup (125ml) water

1 cup (220g) caster (superfine) sugar

1 teaspoon vanilla extract

1 tsp finely grated lemon rind

4 cups (640g) frozen raspberries

8 store-bought round shortbread biscuits

fresh raspberries, to serve

icing (confectioner's) sugar, to dust

Place the water, sugar, vanilla and lemon rind in a medium saucepan over high heat. Bring to the boil and cook for 6 minutes or until reduced and syrupy. Set aside syrup to cool slightly.

Place the syrup and raspberries in a food processor and process until combined. Pour mixture into a 20cm x 30cm metal tin and freeze for 3–4 hours or until set.

Cut the sorbet into squares. Working in batches, place the sorbet in a food processor and process until smooth. Return the sorbet to the metal tin and place in the freezer for 1 hour or until ready to serve.

Scoop sorbet onto half of the biscuits. Sandwich with remaining biscuits. Dust with icing sugar and serve with fresh raspberries. Makes 8.

+ The sorbet can be made a few days ahead and stored in a metal tin, covered with plastic wrap, in the freezer.

There are no comments for this entry yet.