spiced chocolate and christmas pudding

ice-cream sandwiches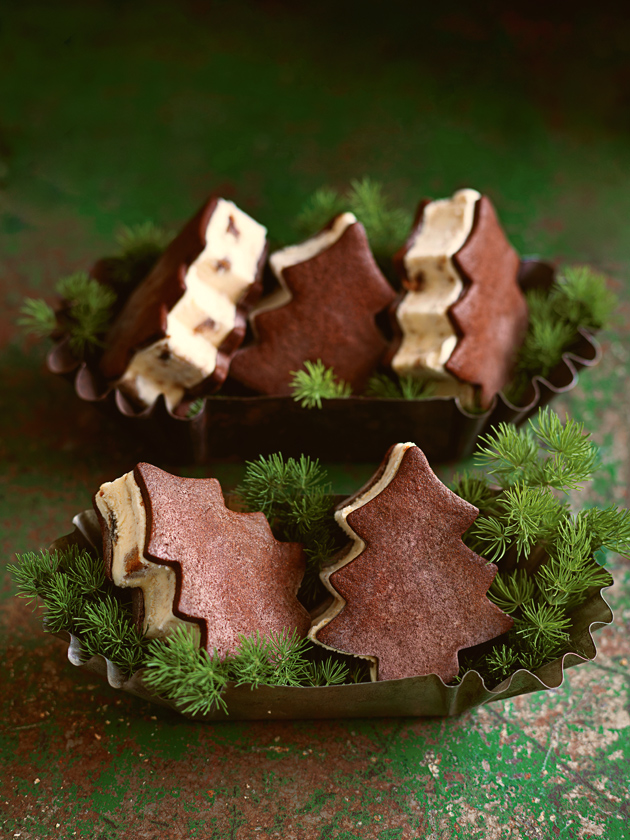 125g unsalted butter, chopped and softened

½ cup (110g) caster (superfine) sugar

1 egg

2 teaspoon vanilla extract

1½ cups (225g) plain (all-purpose) flour, sifted

⅓ cup (35g) Dutch cocoa, sifted

½ teaspoon mixed spice

pudding ice-cream
4 litres store-bought vanilla ice-cream, softened

300g store-bought Christmas pudding, chopped

1 tablespoon brandy

To make the pudding ice-cream, working in two batches, place the ice-cream in the bowl of an electric mixer and beat on low speed until softened. Add the Christmas pudding and brandy and mix to combine. Press the ice-cream mixture into a 25cm x 35cm slice tin lined with non-stick baking paper and freeze for 2 hours.

While the ice-cream is freezing, place the butter and sugar in the bowl of an electric mixer and beat for 
8–10 minutes or until pale and creamy. Add the egg and vanilla and beat for 2–3 minutes or until well combined. Add the flour, cocoa and mixed spice and beat until 
a smooth dough forms. Roll the dough out between 
2 sheets of non-stick baking paper to 4mm thick and refrigerate for 30 minutes or until firm.

Preheat oven to 160°C (325°F). Use a 9cm Christmas 
tree cookie cutter to cut out 20 trees, re-rolling the 
dough if necessary. Place the trees on 2 lightly greased baking trays lined with non-stick baking paper. Cook for 
12–15 minutes or until dry to the touch. Set aside to cool on the trays for 5 minutes before transferring to wire racks to cool completely. Using the same cutter, cut out trees from the ice-cream and sandwich with the biscuits. Freeze until ready to serve. Makes 10.

There are no comments for this entry yet.