white chocolate and berry cheesecake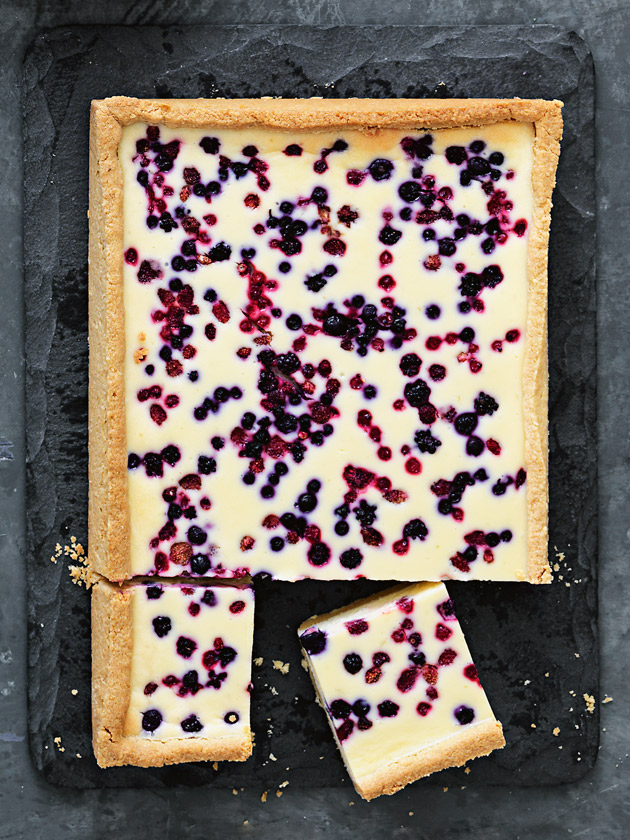 500g cream cheese, softened

250g ricotta

1⅓ cups (295g) caster (superfine) sugar

1 tablespoon finely grated lime rind

2 tablespoons lime juice

1 teaspoon vanilla extract

4 eggs

1 tablespoon cornflour (cornstarch)

1 tablespoon water

180g white chocolate, melted

250g frozen mixed berries

biscuit base
650g store-bought shortbread biscuits

1 cup (120g) almond meal (ground almonds)

180g unsalted butter, melted

To make the biscuit base, place the biscuits and almond meal in a food processor and process until the mixture resembles fine breadcrumbs. Add the butter and process to combine. Using the back of a spoon, press the mixture into the base and sides of a lightly greased 24cm x 34cm rectangular tin lined with non-stick baking paper, ensuring the paper extends 3cm up the sides of the tin. Refrigerate for 1 hour or until firm. Preheat oven to 150°C (300°F).
Place the cream cheese, ricotta, sugar, lime rind and juice, vanilla and eggs in a food processor and process until smooth.
Place the cornflour and water in a bowl and mix until smooth. Scrape down the sides of the food processor bowl, add the cornflour mixture and the chocolate and process to combine. Pour the mixture over the biscuit base and sprinkle with berries.
Bake for 55 minutes – 60 minutes or until set. Allow to cool at room temperature for 1 hour before refrigerating for 3–4 hours or until firm. Using the extended baking paper to help you, lift the cheesecake from the tin and transfer it to a serving dish to serve. Serves 12.

Tip: The cheesecake can be made one day ahead and kept in an airtight container in the fridge until ready to serve.
There are no comments for this entry yet.