shortbread and raspberry slice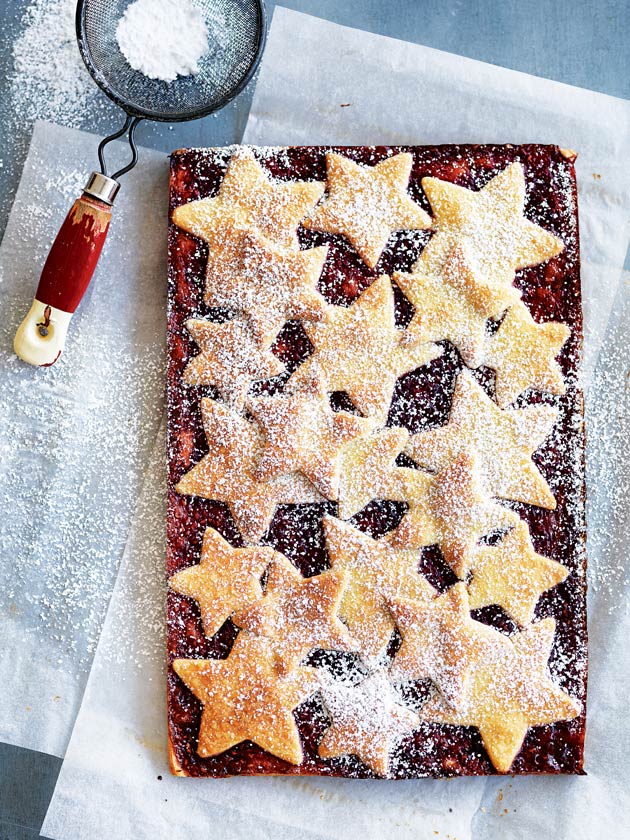 250g cold unsalted butter, chopped

1 cup (160g) icing (confectioner's) sugar, sifted, plus extra for dusting
1½ cups (225g) plain (all-purpose) flour, sifted

½ cup (90g) white rice flour, sifted (see cook's tip)

1 teaspoon vanilla extract

¾ cup (240g) store-bought raspberry jam
Place the butter, sugar, both the flours and the vanilla in a food processor and process until the dough just comes together. Divide the dough in half, cover one half with plastic wrap and set aside in the refrigerator. Roll the remaining half out between 2 sheets of non-stick baking paper to 4mm thick. Refrigerate for 30 minutes or until firm.

Preheat oven to 160˚C (325˚F). Line a large baking tray with non-stick baking paper. Using various-sized star-shaped cutters, cut shapes from the rolled-out dough, reserving any scraps. Place the stars on the tray and refrigerate for 10–15 minutes or until firm enough to handle.

Line a 20cm x 30cm slice tin with non-stick baking paper, allowing 3cm of paper to sit above the edges. Combine the dough scraps with the reserved chilled dough and, using the back of a spoon, press it into the base of the tin. Prick the base all over with a fork and bake for 20 minutes or until golden. Allow to cool for 15 minutes.

Spread the jam over the shortbread base and top with the stars, overlapping them slightly. Bake for 20 minutes or until the stars are golden. Allow to cool completely in the tin.

Remove the slice from the tin and dust with the extra sugar to serve. Serves 6–8
COOK'S TIPS
+ White rice flour is important in the shortbread recipe – it's what helps to give that classic crisp and crumbly texture to the biscuit when baked.
+ When cutting the stars, dip the cookie cutters in a little flour to help prevent the dough from sticking.
+ Pressing the dough into the tin with the back of a spoon will give it a smooth, even surface. Bake the base before spreading it with jam to help the shortbread stay crisp beneath the raspberry layer.
+ We've used raspberry jam, but you can also use strawberry or cherry jam.
+ To save on stress during the Christmas season, why not make the shortbread dough in advance and freeze it? Cover it tightly in plastic wrap and freeze for up to 2 months. Allow it to thaw in the fridge completely before baking.
Meaghan Aldridge
Got rave reviews from this! Wanted a simple addition to take the Christmas lunch. Was an extremely hot day and had to keep putting back in the fridge during the preparation but turned out nicely!