slow-roasted indian lime pickle lamb shoulder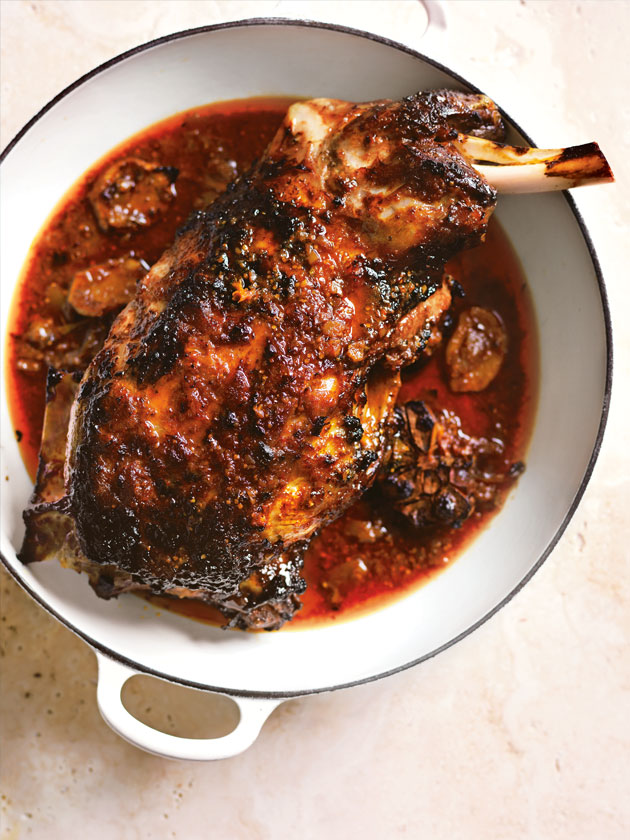 ¾ cup (190g) store-bought Indian lime pickle

2 tablespoons brown sugar

2 tablespoons malt vinegar

4 coriander (cilantro) roots

2.2kg lamb shoulder, bone in

1 bulb garlic, halved

1 cup (250ml) water

5cm-piece ginger, sliced

sea salt and cracked black pepper

Preheat oven to 200°C (400°F). Place the lime pickle, sugar, vinegar and coriander roots in a small food processor and process until fine. Place the lamb in a large deep-sided roasting pan and rub with the marinade.
Add the garlic, water and ginger to the pan and sprinkle with salt and pepper. Cover with aluminium foil and cook for 2 hours 30 minutes or until tender.
Remove the foil, spoon over the cooking liquid and cook, uncovered, for a further 30 minutes or until dark golden brown. Serve. Serves 6.

KERRY STEWART
I wow my guests with this recipe often. I serve it with broccolini or broccoli chargrilled briefly (still al dente) and a splash of lime infused olive oil.
Also roasted potatoes or a salad depending on the time of year.
donna hay team
Hi Lou, any rice or spinach side dish would be great. or even a classic roast potato. Enjoy! The dh team
Lou DAM
What side dishes could I serve with this please?
donna hay team
Hi Robyn! 200 degrees isn't too hot because we are leaving the bone in the lamb shoulder, which means that it will take a while to heat all the way through. Happy cooking!
Gemma Hopper
What would you serve with this? Pilau rice?
Robyn Ford
Isn't 200 degrees rather hot for a 'slow roasted lamb' ?
Tags:
dinners
,
easy dinners
,
ginger
,
lamb
,
lamb shoulder
,
lime pickle
,
roast dinner
,
slow-roasted
,
spicy
,
sunday roast
,
wholesome
,