iceberg salad with
crispy maple-glazed prosciutto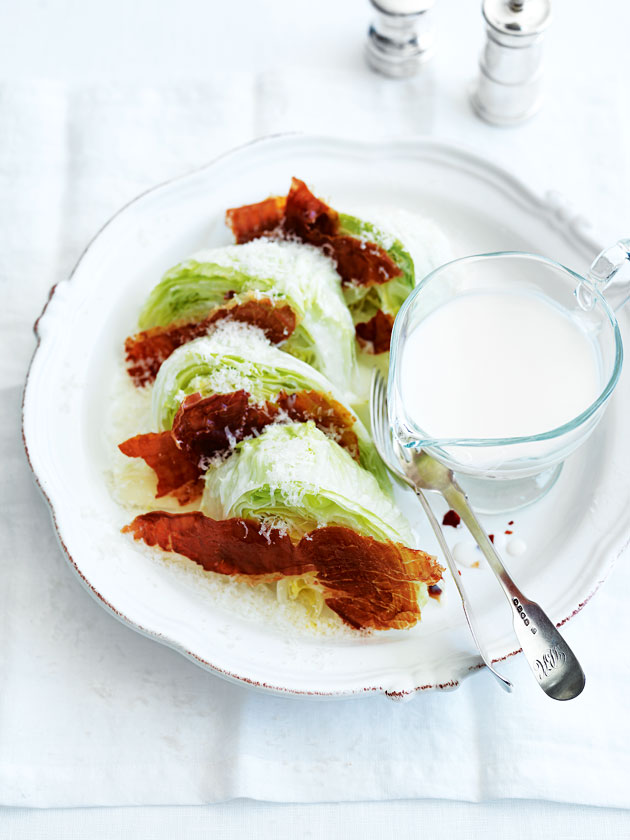 8 slices prosciutto
⅓ cup (80ml) maple syrup
½ cup (125ml) buttermilk
1 teaspoon Dijon mustard
2 teaspoons white balsamic vinegar
sea salt and cracked black pepper
1 head iceberg lettuce, cut into wedges
finely grated parmesan, to serve

Preheat oven to 160°C (325°F). Place the prosciutto on two baking trays lined with non-stick baking paper. Brush the prosciutto with the maple syrup and roast for 15 minutes or until golden and crisp. Transfer to a wire rack to cool.
Place the buttermilk, mustard, vinegar, salt and pepper in a bowl and mix to combine. Arrange the lettuce wedges in a large bowl and top with the prosciutto.
Drizzle with half the dressing, sprinkle with the parmesan and serve with the remaining dressing. Serves 6–8.

There are no comments for this entry yet.