roasted eggplant
with pearl barley, labne and pomegranate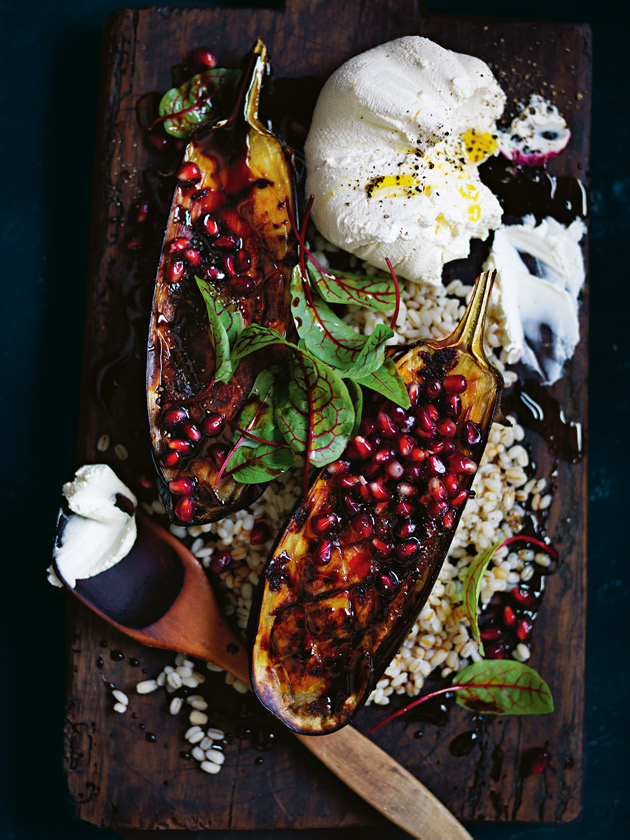 1 cup (200g) pearl barley, rinsed

1½ cups (375ml) water

1 teaspoon finely grated lemon rind

2 cloves garlic, crushed

2 tablespoons extra virgin olive oil, plus extra for drizzling

sea salt and cracked black pepper

2 globe eggplants (860g)+, halved and scored

1 pomegranate, seeds removed

baby red-vein sorrel leaves, to serve

store-bought pomegranate molasses, for drizzling

labne
1½ cups (420g) natural Greek-style (thick) yoghurt

½ teaspoon sea salt flakes

1 tablespoon lemon juice

To make the labne, place the yoghurt, salt and lemon juice in a medium bowl and mix to combine. Transfer the mixture to a bowl lined with a double layer of muslin and gather up the edges to enclose. Suspend the yoghurt from a shelf in the refrigerator, placing a bowl underneath to collect any moisture, for 24 hours or until the mixture is firm. Unwrap from the muslin and set aside. Place the barley and water in a medium saucepan over medium heat and bring to the boil.
Reduce the heat to low, cover with a lid and cook for 30 minutes or until tender. Remove from the heat and allow to stand, covered, for 5 minutes. Preheat oven to 220°C (425°F). While the barley is cooking, place the lemon rind, garlic, oil, salt and pepper in a small bowl and mix to combine.
Brush the cut sides of the eggplant with the garlic mixture and place, cut-side down, on a large oven tray lined with non-stick baking paper. Roast, turning halfway, for 20 minutes or until golden and cooked through. Divide the barley between plates and top with the eggplant, labne, pomegranate seeds and sorrel. Drizzle with the pomegranate molasses and extra oil to serve. Serves 4.
+ These are also known as 'common' eggplants and are the most widely available. Buy firm, glossy eggplants as the fresher they are, the less bitter they will be. Find in supermarkets.
Tip: You can use store-bought labne, if you prefer.
Photography: Ben Dearnley
There are no comments for this entry yet.