roasted potato stacks
with pecorino and marjoram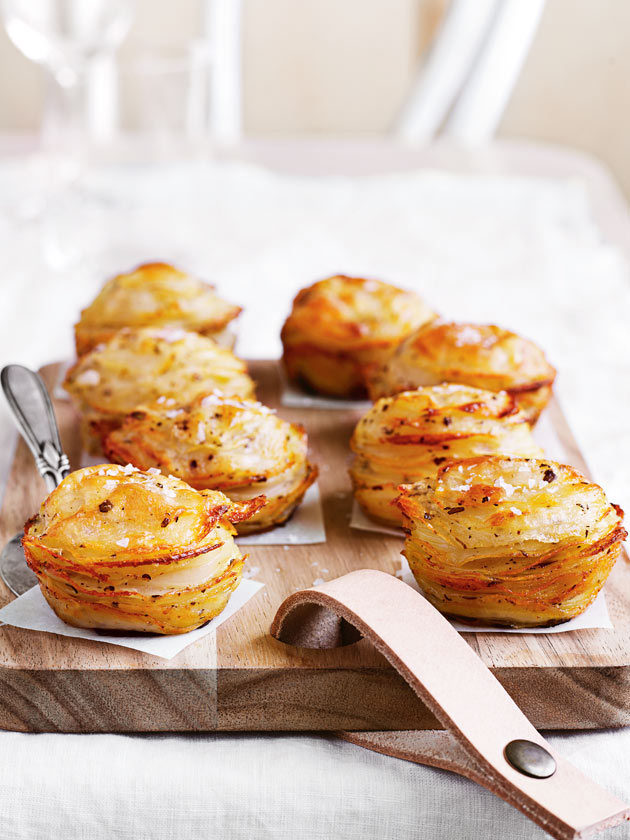 1.5kg small sebago (starchy) potatoes,

peeled and finely sliced on a mandolin

½ cup chopped marjoram leaves

½ cup (40g) finely grated pecorino

sea salt and cracked black pepper

½ cup (120g) store-bought duck fat

Preheat oven to 200°C (400°F). Place the potato, marjoram, pecorino, salt, pepper and duck fat in a large bowl and toss to combine. Divide the potato between the holes of a lightly greased 12 x ½-cup-capacity (125ml) muffin tin+. Cover with non-stick baking paper and aluminium foil. Cook for 30 minutes.
Remove the foil and baking paper, reduce oven temperature to 180°C (350°F) and cook for 20–25 minutes or until golden. Run a sharp knife around each stack and turn out. Sprinkle with salt and pepper to serve. Makes 12.

+ The potato will sit slightly above the rim of the muffin tin holes, but will shrink as it cooks.
There are no comments for this entry yet.