cranberry gravy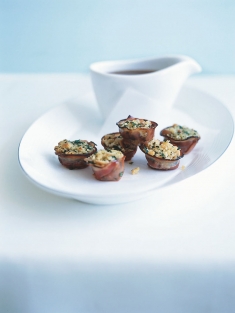 pan juices from roast turkey*

2 teaspoons plain (all-purpose) flour

½ cup (125ml) cranberry juice

¼ cup (60ml) chicken stock

Remove the roast turkey from the baking dish, set aside and keep warm. Pour the fat and pan juices into a jug.
Return a ¼ cup (60ml) pan juices to the baking dish, add the flour and stir over medium heat for 2−3 minutes or until the flour is golden. Pour the cranberry juice and stock into a jug. Add the remaining pan juices to the jug to make up 1 cup. Gradually whisk into the baking dish until smooth. Pour the gravy into a jug to serve. Makes 1 cup.

* Instead of using pan juices, you can use 1 tablespoon vegetable oil and increase the amount of stock you add to ½ cup (125ml).
** Serve this gravy with roast lemon thyme turkey.
There are no comments for this entry yet.