sweet and spicy nut mix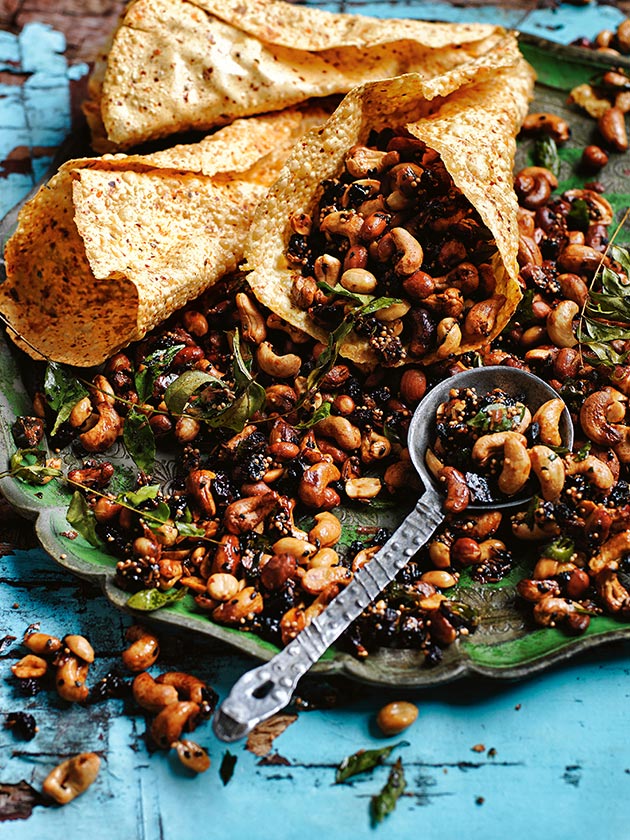 1 cup (150g) beer nuts

1 cup (150g) cashews

¼ cup (40g) dried currants

1 long green chilli, thinly sliced

1 tablespoon black sesame seeds

1 teaspoon cumin seeds

2 teaspoons yellow mustard seeds

3 sprigs curry leaves

1 teaspoon sea salt flakes

2 tablespoons honey

1 tablespoon extra virgin olive oil

large pappadum cones+, to serve

Preheat oven to 180°C (350°F). Place the nuts, cashews, currants, chilli, sesame seeds, cumin seeds, mustard seeds, curry leaves, salt, honey and oil in a large bowl and toss to coat.
Place on a large baking tray lined with non-stick baking paper. Cook for 12–15 minutes, stirring frequently, or until golden brown. Allow to cool and serve in pappadum cones.
Serves 4 as a snack.
+ To make the pappadum cones, fill a large saucepan half-full with vegetable oil and place over medium heat until the temperature reaches 160°C (325°F) on a deep-frying thermometer. Cook the pappadums, one at a time, for 30 seconds. Remove from the oil and carefully shape into a cone while still hot. Set aside to cool.

There are no comments for this entry yet.