watercress, broccoli and roasted garlic pesto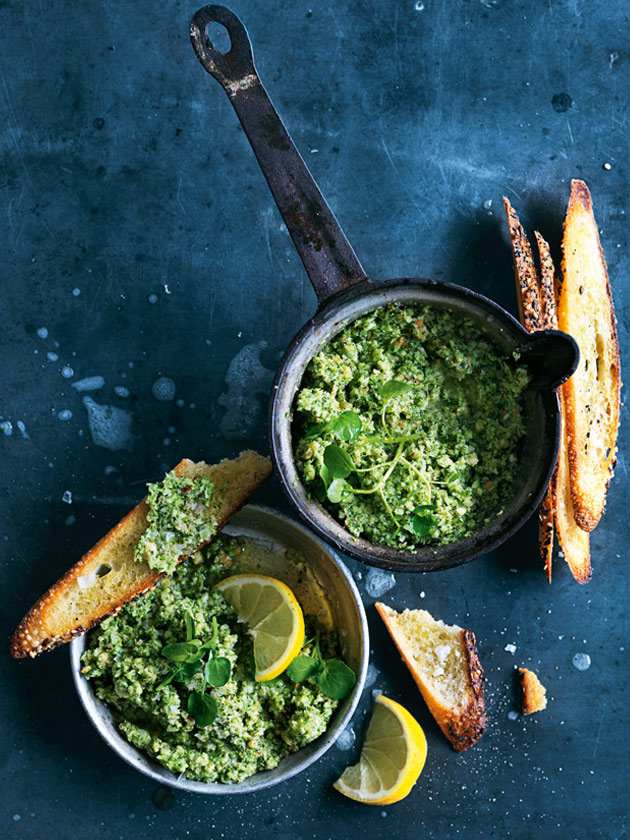 1 head garlic

1½ tablespoons extra virgin olive oil, for drizzling

6 cups (360g) broccoli florets

2 cups (30g) watercress sprigs, plus extra to serve

½ cup (80g) roasted almonds

2 teaspoons finely grated lemon rind

2 tablespoons lemon juice

½ cup (40g) finely grated parmesan

¾ cup (180ml) extra virgin olive oil, extra

char-grilled bread and lemon wedges, to serve

Preheat oven to 180°C (350°F). Place the garlic on a sheet of aluminium foil, drizzle with the oil and wrap to enclose. Roast for 30 minutes or until golden and soft. Allow to cool and squeeze the cloves from their skin into a food processor.
Add the broccoli, watercress, almonds, lemon rind and juice, parmesan and extra oil and process to a coarse paste. Serve with bread, lemon wedges and extra watercress. Makes 3 cups.
There are no comments for this entry yet.