honey marshmallows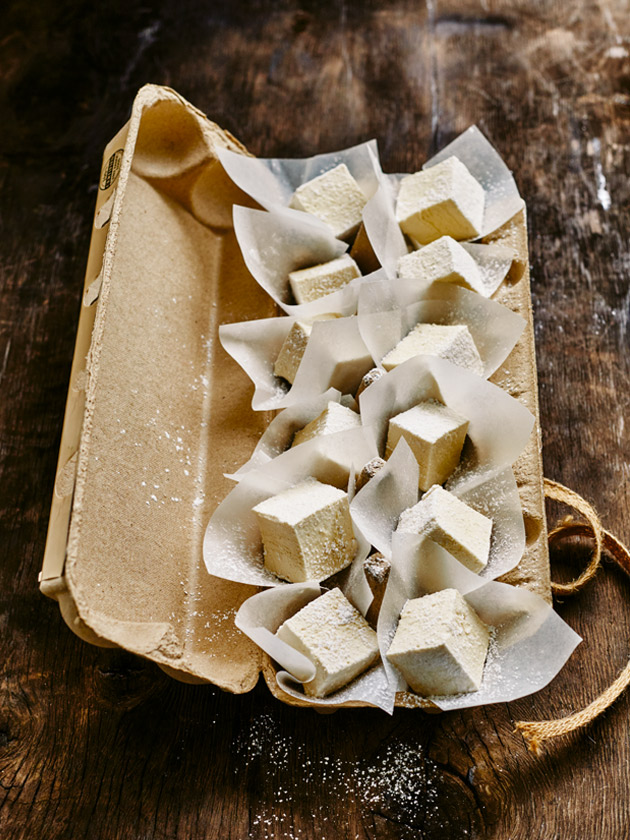 1 cup (250ml) water
2 tablespoons gelatine
1 cup (360g) honey+
2 teaspoons vanilla extract
½ cup (80g) pure icing sugar

⅓

cup (50g) cornflour
Pour ½ cup of water into the bowl of an electric mixer and sprinkle the gelatine on top. Allow the gelatine to stand for 10 minutes.
While the gelatine is soaking, heat a small saucepan over medium-high heat with a candy thermometer++. Add the remaining ½ cup water and honey, stirring the mixture for 1 minute. Cook for 12-15 minutes or until the mixture reaches 115°C (240°F).
For the gelatine mixture, using the electric mixer, mix on low to combine, scraping down the sides if necessary. While the motor is running, add the vanilla and slowly pour in the honey mixture. Increase the speed to high and beat for 8-10 minutes or until mixture has tripled in size and is almost cool.
While the marshmallow is beating, line a 20 x 30cm slice tin with non-stick baking paper. In a separate bowl, sift the icing sugar and cornflour and mix to combine. Evenly sprinkle the sugar mix onto the baking paper. Pour the marshmallow into the pan and working quickly to flatten the top. Evenly add the sugar mix on top and refrigerate for 3 hours or until set.
Remove the marshmallow from the tin and place on a board dusted with the sugar mix. Dust a knife with more sugar mixture and cut the marshmallow into squares. Add more sugar mix as necessary to prevent sticking. Store in an airtight container for up to 2 days. Makes 48
COOK'S TIP
+ If you don't have honey, you could can use 1 cup (250ml) maple syrup instead.
++ If you don't have a candy thermometer, the honey syrup is ready when a small teaspoon of the hot honey syrup is dropped into a small bowl of cold water, the honey mixture should just hold its shape.
Photography: Con Poulos
There are no comments for this entry yet.