chocolate and vanilla brûlée cheesecake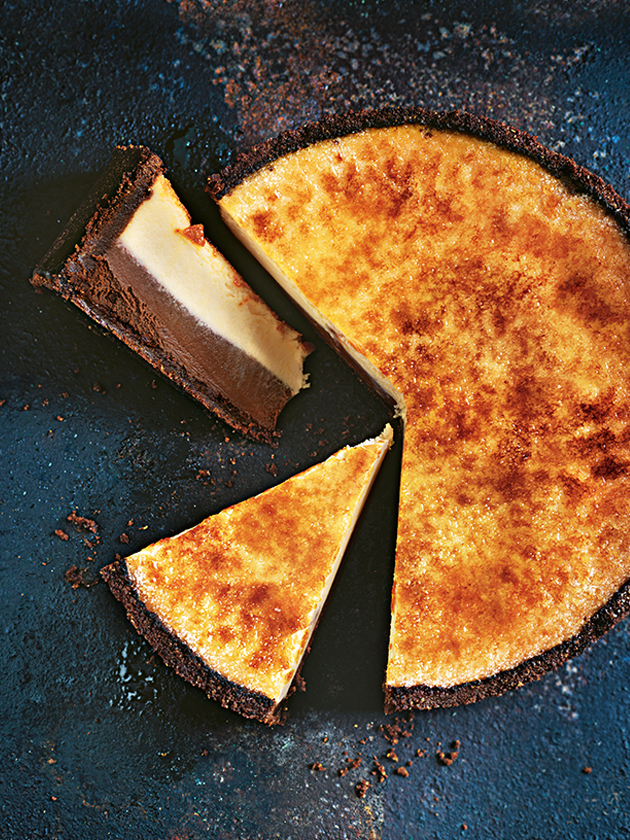 340g store-bought plain chocolate biscuits

⅓ cup (40g) almond meal (ground almonds)

100g unsalted butter, melted

¼ cup (55g) white (granulated) sugar

filling
500g cream cheese, chopped and softened

1½ cups (360g) fresh firm ricotta

1 cup (220g) caster (superfine) sugar

4 eggs

2 teaspoons vanilla extract

200g dark chocolate, melted

2 teaspoons cornflour (cornstarch)

Line a 20cm round springform tin with non-stick baking paper. Place the biscuits and almond meal in a food processor and process into coarse crumbs. Add the butter and process until combined. Press into the base and sides of the tin, using the back of a spoon. Refrigerate for 30 minutes or until cold.
Preheat oven to 150°C (300°F). To make the filling, place the cream cheese, ricotta and sugar in the cleaned food processor and process for 2 minutes or until smooth. Scrape down the sides of the bowl, add the eggs and half the vanilla and process for 1 minute. Transfer two-thirds of the filling to a large bowl and set aside.

Add the chocolate to the remaining filling in the food processor and process until well combined. Pour onto the chilled base and smooth the top.
Place the cornflour and the remaining vanilla in a small bowl and mix to combine. Add the cornflour mixture to the remaining filling in the bowl and mix well. Gently spread into the tin and smooth the top.

Bake for 55 minutes – 1 hour or until the edges are just set and the centre still has a slight wobble. Turn the oven off and allow the cake to set in the oven with the door closed for 20 minutes. Allow to stand at room temperature for 30 minutes, before refrigerating for 2–3 hours or until cold. Carefully remove the tin.

Place the cheesecake on a cake stand or plate. Sprinkle with the sugar and caramelise the top, using a small kitchen blowtorch, to serve. Serves 10
Chris Holden
Not sure what was meant by plain chocolate biscuits so used plain digestives and added cocoa powder. Needed a bit more butter to make it the right consistency to hold together and mould to the tin
donna hay team
Hi Kate, yes! You can serve it as a regular cheesecake. – The DH Team.
Kate Coleman
Is this fine served without brulee-ing the top?
donna hay team
Hi, there. We also used chocolate ripple biscuits. When processing the biscuits, make sure to process for a good minute to make sure the butter and biscuits combine. We use a glass to press the mixture in firmly to the tin, if it is crumbly. Hope that helps! The DH Team.
Stacy Korkou
The photography is amazing but I find the recipes hit and miss even for an experienced baker, this one I used choc ripple biscuits, I found the base was too crumbly, very frustrating given it was for a special occasion!
Karen Sweep
Loved the sound of it so made 2 at same time. Both perfect and all who ate totally loved it. I served with fresh raspberries and a vanilla ice-cream scoop.