classic chocolate caramel slice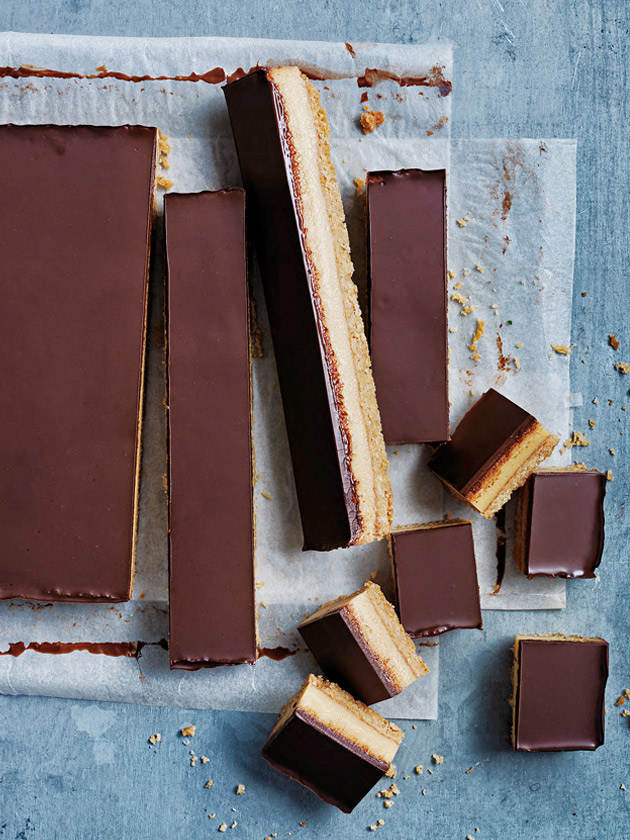 1 cup (150g) plain (all-purpose) flour, sifted

½ cup (40g) desiccated coconut

125g unsalted butter, melted

½ cup (90g) brown sugar
caramel filling
125g unsalted butter, chopped

2 x 395g cans sweetened condensed milk

⅓ cup (115g) golden syrup
chocolate topping
200g dark chocolate, chopped

1 tablespoon vegetable oil

Preheat oven to 180°C (350°F). Place the flour, coconut, butter and sugar in a bowl and mix to combine. Using the back of a spoon, press the mixture into the base of a lightly greased 20cm x 30cm tin lined with non-stick baking paper and bake for 15–20 minutes or until golden.

While the base is cooking, make the caramel filling. Place the butter, condensed milk and golden syrup, in a medium saucepan over medium heat. Whisk until the butter is melted and cook, whisking frequently, for 5–7 minutes or until the mixture has thickened slightly (see tip). Pour the caramel over the cooked base, spread evenly with a palette knife and cook for 15–20 minutes or until golden. Cool slightly and refrigerate until cold.
To make the chocolate topping, place the chocolate and oil in a heatproof bowl over a saucepan of simmering water, and stir until melted and smooth. Pour the chocolate over the caramel mixture and spread evenly. Refrigerate for 30 minutes, or until firm. Using a warm knife, cut into slices or squares to serve. Makes 20 squares.

Tip: When stirring the caramel, scrape the sides and bottom of the pan so the mixture doesn't stick.
Click here to watch me make this classic dessert in a quick video!

Linda Packham
I have been making this slice since I got the recipe card in the Sunday Herald Sun in 2003 as a promotion for Donna's then soon-to-be-released 'Modern Classics Book 2'. It's been my favourite sweet treat ever since and never fails to impress anyone for whom I've made it. Thanks Donna!
Sasha Vasilieff
I have made this a couple of times now and it is always a hit and disappears fast. It is so simple to make. Last time I sprinkled a little sea salt over the caramel just before pouring the chocolate for a little twist
Adrian Murphy
I made this gluten free and my wife absolutely loves it. I think it might be a weekly thing now!
donna hay team
Hi Cat, we suggest you use the thinnest knife you have and warm it in hot water. Dry it and cut just through the chocolate and then in one action through the caramel.
Cat G
Hi Donna, love this recipe. But can you tell me how to cut nice pieces without the layers smudging?
I use a knife under boiling kettle water then dried with a tea towel. But it still smudges.
Or do i cut the slice at room temperature? Not sure ..... ?
Trina Tapsell
I have had this version which was delicious although just a little too sweet for my kids hubby and me so I substituted the base big time by using coconut oil instead of butter, almond flour instead of white, 1c of dates instead to sugar. I kept the caramel the same and most of the sweetness came from that. The chocolate I used was organic, mixed with coconut oil and this was just as delicious!
Mel Kaylie
Just made this and it tastes great! I was worried I didn't take the caramel far enough but it still set beautifully, maybe watch the video first to see how thick it should look. Easy recipe I'll make it again.
Jane Heaven
This recipe is my favourite caramel slice however unfortunately my effort today was a bit of a flop. My caramel was super runny even after being in the fridge overnight and my base was really hard. After reading the other comments, it appears that perhaps I haven't cooked the caramel for long enough and maybe overcooked my base!! I will attempt again x
Wendy Whellum
I have been making this recipe for years with great success. Recently I have updated it with some ground rock salt for that salty caramel taste. And, GF, just change the flour to something like rice flour. That works.
Lisa Robertson
Hi, Your choc caramel slice is our favourite recipe but just recently my son has been diagnosed with Coeliac Disease. I want to keep making it, do you have a gluten free base I could substitute for the one in this recipe? Thanks Lisa
donna hay team
Hi Shirleen, you can swap the coconut for almond meal - however the texture will vary slightly. The DH team
donna hay team
Hi Caitlin, this slice will keep refrigerated for up to a week. (If you can make it last that long!) The DH team
Shirleen Oh
Hi. I don't like dessicated or shredded coconut. What alternative is there to make the base please?
Caitlin O'Shea
How long will the slice keep for? Thanks X
donna hay team
Hi Vishweta, the caramel should thicken slightly on the cooktop. Then after baking it in the oven you should start to see some dark edges appear on the caramel. This will ensure that it will set in the fridge. Good luck! The DH team
Susanne R
Instead of golden syrup i used some brown sugar, worked perfectely. Maybe next time i will even try without extra sugar in the condensed milk. It is already so sweet and the bottom and top layer has (some) sugar as well. As a birthday treat some receivers were surprised i made it myself.
Vishweta Mohan
I used the exact measurement, still the caramel part was liquid even after refrigerating it for more than 4 hrs. I'm sure I have done some blunder, any guidance?
Bernadette Niebuhr
Good Morning, do these bars require being stored in the refrigerator, or are they fine to sit at room temperature in an airtight container? Thanks! Bernadette
Sherlyn Hersom
This is the fifth time I've made this, it's so easy to make and oh so yummy! Thanks for sharing this scrumptious recipe.
Monique Clarke
Could you please tell me what brand cake tin you use to make your caramel slice? Thanks, Monique
RELATED VIDEO