coconut and lime panna cotta
with raspberries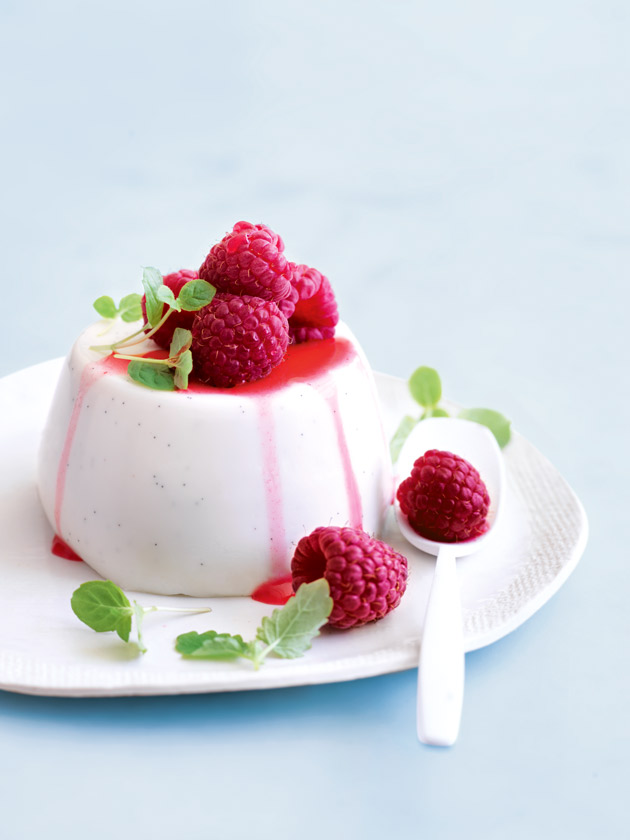 1/3 cup (80ml) warm water

1 tablespoon powdered gelatine

400ml can coconut cream

¾ cup (165g) caster sugar

1 teaspoon vanilla bean paste

3 teaspoons finely grated lime rind

2 x 400ml can coconut milk

125g raspberries

1 tablespoon lime juice

2 tablespoons icing sugar, sifted

micro mint, to serve

Place the water in a small bowl and sprinkle over the gelatine. Set aside for 5 minutes or until the gelatine has been absorbed.

Place the coconut cream, caster sugar, vanilla bean paste and lime rind in a medium saucepan over medium heat and stir to dissolve the sugar. Bring to the boil, add the gelatine mixture and stir to combine. Remove from the heat, strain through a fine sieve into a large bowl and stir through the coconut milk.

Divide the mixture between 6 x 1-cup-capacity (250ml) dariole moulds and refrigerate for 12 hours or until set.

Place the raspberries, lime juice and icing sugar in a small bowl, toss to combine and set aside for 10 minutes. Turn the panna cottas out onto plates and top with the raspberry mixture and mint to serve. Makes 6.

Tip: If you don't have dariole moulds, you can also set and serve these panna cottas in small glasses and bowls, without turning them out.
donna hay team
Hi Margaret. Yes, that's right, the liquid should not be scolding hot when you add the gelatin. Hope that helps! The DH Team
Margaret Donaldson
I follow this recipe exactly. It is the most beautiful flavour but it doesn't set properly. Is it because of adding gelatine to boiling liquid- should the liquid be cooled a bit first?