spiced snowflake doughnuts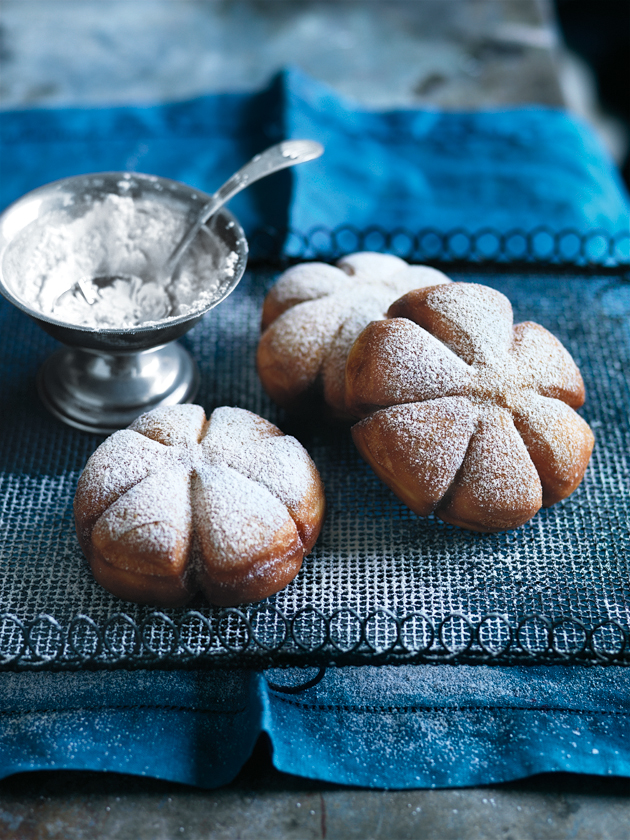 2 teaspoons active dry yeast
1½ tablespoons lukewarm water
½ cup (125ml) lukewarm milk
2 tablespoons caster (superfine) sugar
50g butter, melted
2¼ cups (335g) plain (all-purpose) flour
½ teaspoon ground nutmeg
2 eggs
vegetable oil, for deep-frying
nutmeg and ginger sugar
¼ cup (55g) icing (confectioner's) sugar, sifted
½ teaspoon ground nutmeg
1 teaspoon ground ginger

To make the nutmeg and ginger sugar, place the sugar, nutmeg and ginger in a bowl and mix to combine. Set aside.Place the yeast, water, milk and 1 tablespoon of sugar in a large bowl and set aside in a warm place for

10 minutes or until bubbles appear on the surface. Add the butter, flour, nutmeg, eggs and remaining sugar to the yeast mixture and use a butter knife to mix until a sticky dough forms. Turn out onto a lightly floured surface and knead until smooth. Place the dough in a lightly oiled bowl, cover with a clean, damp cloth and set aside in a warm place for 45 minutes or until doubled in size. Knead the dough on a lightly floured surface for 5 minutes or until smooth and elastic. Roll out to 1cm thick and use an 8cm-round cutter to cut 10 rounds from the dough. Using a small, sharp knife make 6 shallow cuts from the edge to the centre of the rounds. Place the rounds on a baking tray lined with non-stick baking paper and set aside for 30 minutes or until risen.
Place the oil and a sugar thermometer in a large, deep saucepan over medium heat until temperature reaches 180°C (350°F). Cook the doughnuts, in batches, for 1–2 minutes each side or until golden. Drain on absorbent paper. Dust with the nutmeg and ginger sugar and serve immediately. Makes 10.

+ It's important to let the dough 'prove' to ensure it achieves a light and airy texture. A little warmth is essential to help the yeast work and allow the dough to rise. A good way to prove your dough is to turn the oven to a low temperature 60°C–80°C (140°F–170°F), open the oven door and place yourbowl of dough on the door for the required time. When letting the doughnuts rise for a second time after you've kneaded the dough, they should become slightly puffy with a firm, stretched top.
There are no comments for this entry yet.