baked rice pudding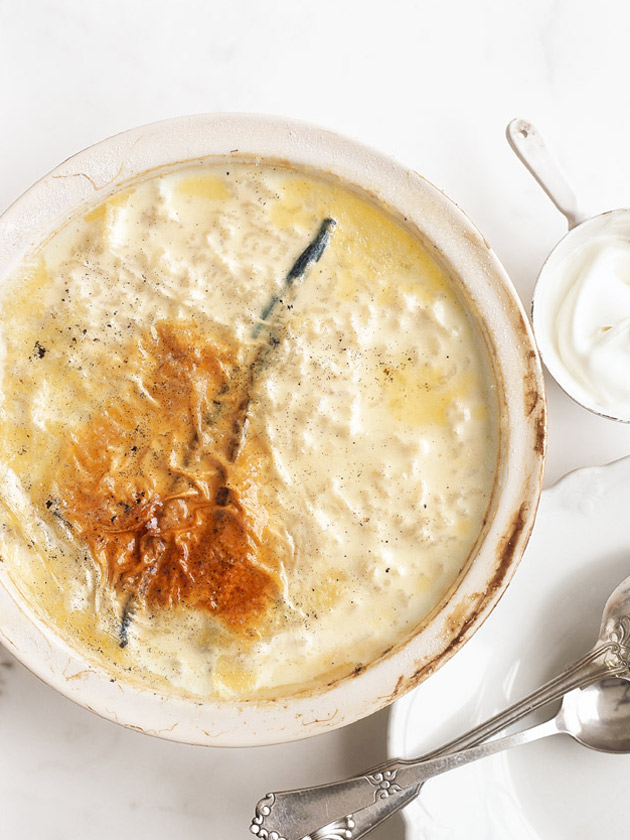 ½ cup arborio rice

1 litre milk

1 vanilla bean, split and seeds scraped

2 tablespoons caster (superfine) sugar

4 pieces lemon peel

20g buttter, chopped

1 tablespoon caster (superfine) sugar, extra
double (thick) cream, to serve

Preheat oven to 160ºC (320ºF). Place the rice in the base of a 7 cup-capacity (1.75 litre) shallow ovenproof dish. Combine the milk, vanilla bean and seeds, sugar and lemon peel, pour over the rice and stir to combine. Cover with aluminium foil and place on a baking tray.

Bake for 1 hour, remove the foil and stir. Bake, uncovered, for a further 30 minutes.

Top with the butter, sprinkle with the extra sugar and bake for 10–15 minutes or until the top is golden. Serve with the cream. Serves 6

Mel McLean
Delicious, needed an extra 15 minutes in my oven but then it was perfect.
Ian Ralston
Have made this a few times now and always turns out great. Follow the recipe but a couple of times I didn't have lemon but it was still great without. Making one now for friends next door. They love it!
donna hay team
Hi Lyn, the recipe is correct. The DH Team.
Lyn Borghouts
Hi is there an error in the rice qty? It says half a cup. Should that be one and a half to go with one litre of milk?
donna hay team
Hi Josy, yes you can use 1 teaspoon of vanilla extract as a substitute. Enjoy! The DH Team.
sjjbrown@outlook.com
Is it possible to replace the vanilla bean with vanilla extract/essence? If so, how much should I use?
Dawn Bailey
This is simply the best recipe, I have made it over and over for years, also when my parents come over from the UK, as they are both diabetics, I substitute the sugar for either native or Splenda, and they love it, it is their favourite, and it is the first thing they ask me to make them…I highly recommend this recipe
donna hay team
Hi BN, we use a fan forced oven setting when baking to allow an even cooking temperature. Also, the dish we cook the rice pudding in isn't very deep to allow an even cooking time (4cm deep). Hope that helps! The DH team
B N
This recipe does not work. Outcome is sloppy mushy rice in hot milk. Very disappointing after 2 hours in the oven
rob Weaver
I haven't made this recipe yet but I noticed the amount of sugar used , 2 tablespoons, is very small. Most recipes I've made ask for 1/2 cup. The flavor of baked rice pudding is very different than stove top prepared, a flavor that I find is richer and more aromatic. Rice pudding is the epitome of comfort food. I look forward to making this recipe.