blueberry and lemon mascarpone tart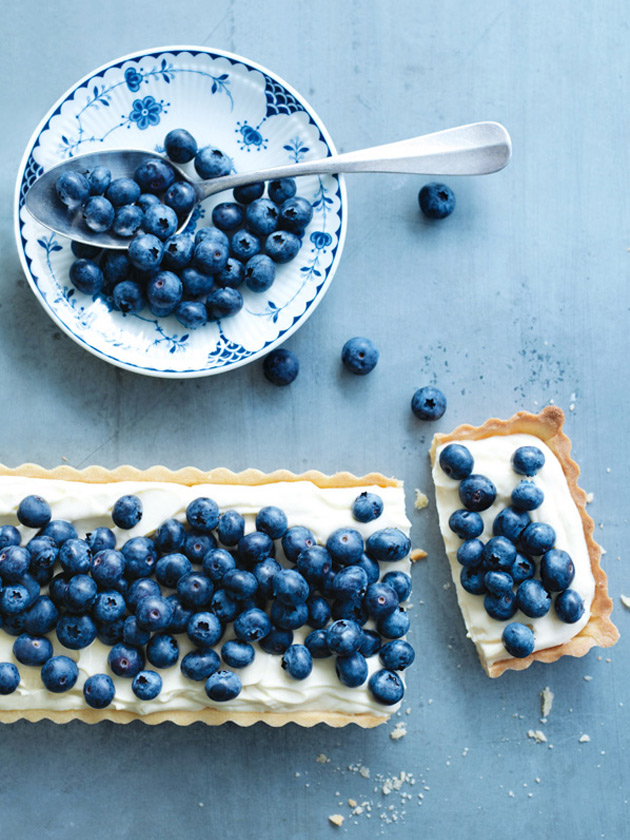 500g mascarpone

2 tablespoons finely grated lemon rind

½ cup (80g) icing (confectioner's) sugar, sifted

375g blueberries

icing (confectioner's) sugar, for dusting

sweet shortcrust pastry
1½ cups (225g) plain (all-purpose) flour, sifted

125g cold butter, chopped

½ cup (80g) icing (confectioner's) sugar, sifted

3 egg yolks

2 teaspoons vanilla extract

1 tablespoon iced water

To make the pastry, place the flour, butter and icing sugar in the bowl of a food processor and process in short bursts until the mixture resembles fine breadcrumbs. While the motor is running, add the egg yolk and vanilla. Add the iced water and process until the dough just comes together. Turn out onto a lightly floured surface and bring together to form a ball. Flatten into a disc, wrap in plastic wrap and refrigerate for 1 hour.
Preheat oven to 180ºC (350ºF). Roll the pastry out between 2 sheets of non-stick baking paper to 3mm thick. Line a lightly greased 33cm x 9cm loose-bottomed rectangular tart tin with the pastry. Trim the edges and prick the base with a fork. Refrigerate for 30 minutes. Line the pastry case with non-stick baking paper, fill with baking weights or rice and bake for 10 minutes. Remove the paper and the weights and bake for a further 10 minutes or until golden. Set aside to cool.
While the tart is baking, make the filling. Place the mascarpone, lemon and icing sugar in a bowl and mix well to combine. Spread onto the base of the cooled tart shell, top with the blueberries and dust with icing sugar to serve. Serves 8–10.

Diego Garcia
I love this dessert!
Sometimes i add a thin layer of dulce de leche between the pastry and the cream, and it tastes great! Thanks!