super tasty broccoli bowl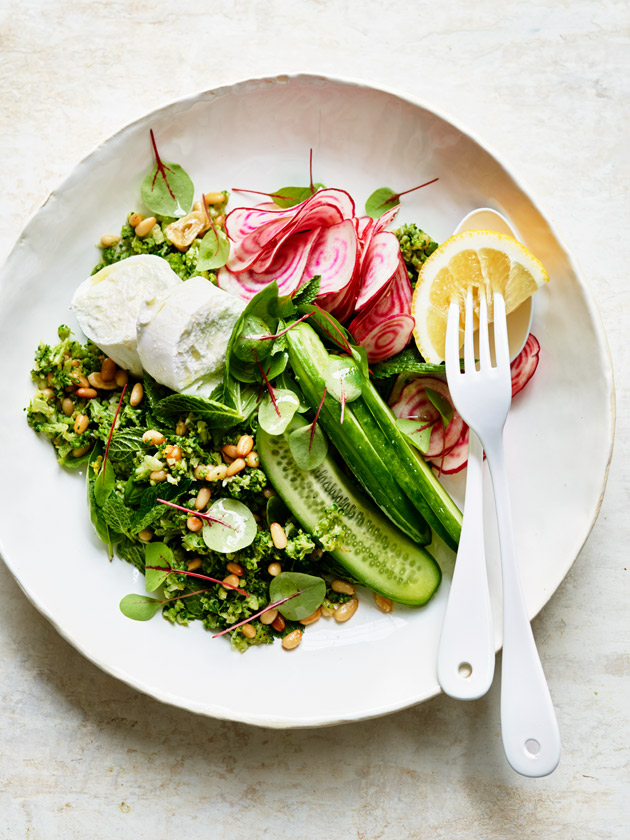 ¼ cup (60ml) extra virgin olive oil, plus extra to serve
¾ cup (100g) pine nuts
3 garlic cloves, roughly chopped
950g broccoli, grated
2 tsp lemon zest
1 tbsp lemon juice, plus extra to serve
1 cup (20g) basil leaves
1 cup (16g) mint leaves
6 baby cucumbers, or 2 cucumbers, thinly sliced
3 small target beetroots+, peeled and thinly sliced
200g fresh goat's cheese, broken into chunks
red-vein sorrel, to serve (optional)
Heat a large deep-sided frypan over medium heat.
Add the oil and pine nuts and cook, stirring, for 1-2 minutes or until pine nuts are a light golden colour. Add the garlic and cook for a further 1 minute.
Add the broccoli, stirring continuously for 3-4 minutes until just cooked, adding a little extra oil if necessary.
Remove from heat and stir through the lemon zest, juice, basil and mint. Season with salt and pepper.
To serve, divide broccoli mixture between bowls. Top with cucumber, beetroot and goat's cheese and finish with a drizzle of extra oil and lemon juice. Scatter with red-vein sorrel leaves, if desired. Serves 4
+ If target beetroot is hard to find, you can also use 1 large regular beetroot.
Cook's tip
+ Simply use a box grater to grate the broccoli into small crumbs.
+ Add more protein to this salad with a can of tuna or your favourite legumes, perhaps white beans or chickpeas.
Photography: Con Poulos
There are no comments for this entry yet.