sweet pickled chilli and lime ribs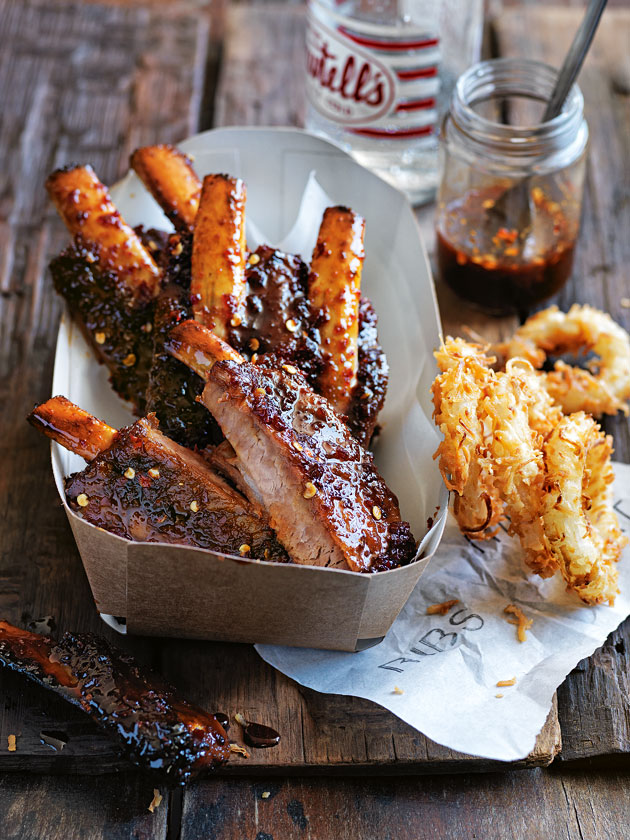 8 coriander (cilantro) stalks

6 thai lime leaves

1 brown onion, quartered

2 limes, sliced
1 x 6cm-piece (30g) ginger, sliced

2 tablespoons table salt

½ cup (125ml) white vinegar

½ cup (110g) white sugar

2.5 litres water

2kg (4 racks) American-style pork ribs
sweet pickled chillies

10 long red chillies, chopped

¼ cup (70g) table salt

½ cup (110g) white sugar

1 tablespoon finely grated ginger

1 tablespoon finely grated lime rind

¼ cup (60ml) lime juice

2 tablespoons white vinegar

½ cup (125ml) kecap manis (sweet Indonesian soy sauce)

Place the coriander, lime leaves, onion, lime, ginger, salt, vinegar, sugar and water in a large saucepan over high heat and bring to the boil. Add the ribs, reduce the heat to medium and cover with a lid. Simmer for 30–40 minutes or until the ribs are tender. While the ribs are cooking, make the sweet pickled chillies.
Place the chilli in a bowl, sprinkle with the salt and stand for 5 minutes. Transfer to a colander and rinse off the salt. Place the chilli, sugar, ginger, lime rind and juice and vinegar in a small food processor and process until finely chopped. Add the kecap manis and stir to combine.
Carefully remove the ribs from the cooking liquid and place in a large deep-sided tray or dish. Pour over the chilli mixture and rub evenly over the ribs to coat. Cover with plastic wrap and refrigerate for 30 minutes until cool, or overnight. Preheat oven to 220°C (425°F). Place the ribs on wire racks set over 2 baking trays lined with non-stick baking paper. Roast for 20 minutes, brushing with the chilli marinade every 5 minutes, until golden and caramelised. Serves 4.

There are no comments for this entry yet.