cinnamon sticky buns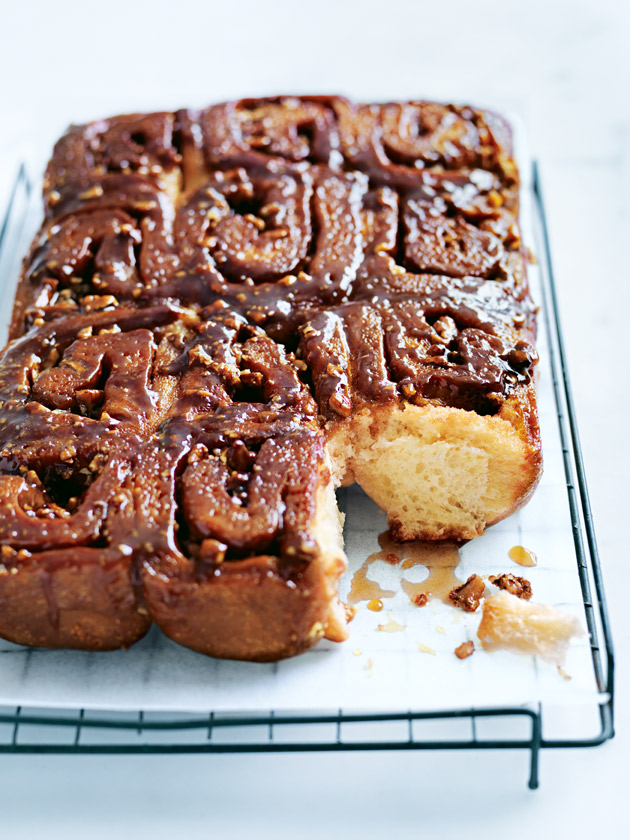 2 teaspoons dried yeast

⅔

cup (160ml) lukewarm milk
2 teaspoons vanilla extract
3 cups (450g) plain flour
¼ cup (55g) caster sugar
¼ teaspoon sea salt flakes
2 eggs, lightly beaten
125g unsalted butter, melted
1 cup (120g) toasted pecans, chopped

MAPLE GLAZE
⅓

cup (80ml) maple syrup

⅓

cup (60g) brown sugar
75g unsalted butter, chopped
CINNAMON BUTTER
100g unsalted butter, softened

½ cup (90g) brown sugar
2 teaspoons ground cinnamon
Place the yeast, milk and vanilla in a bowl and mix to combine.Set aside in a warm place for 5 minutes or until bubbles appear on the surface.
Place the flour, sugar, salt, egg, butter and yeast mixture in the bowl of an electric mixer with a dough hook attached and beat on low speed for 1 minute until just combined. Increase speed to high and beat for 5–8 minutes or until the dough comes away from the sides of the bowl. Place in a lightly greased bowl, cover with a damp tea towel and set aside in a warm place for 1 hour or until doubled in size.
To make the maple glaze, place the

maple syrup, sugar and butter in a medium saucepan over low heat and cook, stirring, until the butter is melted and the sugar is dissolved. Increase heat to medium, bring

to the boil and cook for 3–4 minutes or

until smooth. Pour into a lightly greased

20cm x 30cm tin and set aside.
To make the cinnamon butter, place the butter, sugar and cinnamon in a bowl and

mix to combine. Set aside.
Roll the dough out between 2 sheets of non-stick baking paper to make a 60cm x 25cm rectangle. Spread with the cinnamon butter, leaving a 1cm border, and sprinkle with the pecans.
Starting with the longest side, roll tightly to enclose the filling. Trim the edges of the bun and cut into 12 even pieces. Place the pieces, side-by-side and scroll-side up, in the tin. Cover with a damp tea towel and set aside for 45–60 minutes or until doubled in size.
Preheat oven to 180°C. Place the tin on

a baking tray and cook for 20 minutes. Cover loosely with aluminium foil and

cook for a further 15–20 minutes or until cooked through and golden. Allow to stand for 2–3 minutes before turning out
onto a wire rack to cool. Makes 12.
Eveline Van Grootel
Amazing!
The dough is so soft!
Shawn ODonnell
Made two batches for my office - everyone loved them. Delicious!
RELATED VIDEO