hazelnut mocha mousse cake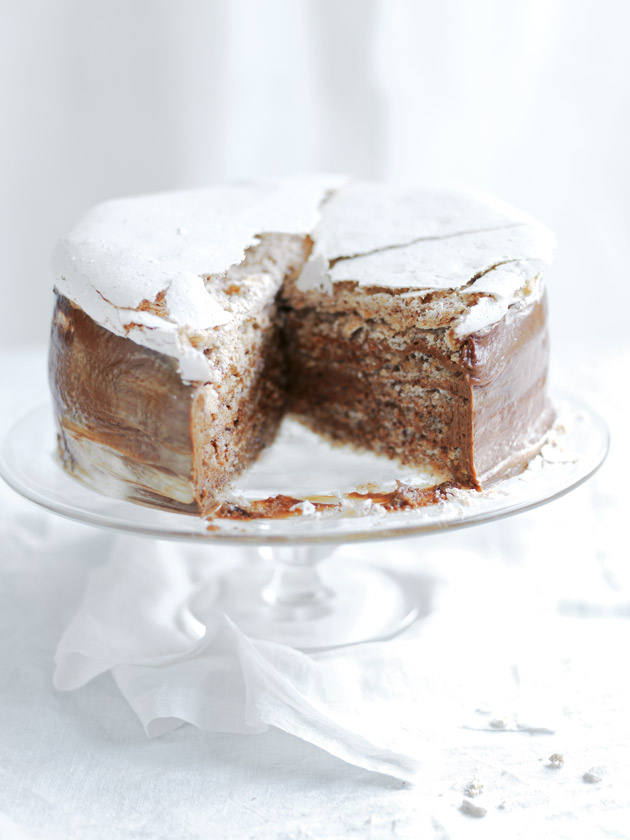 ¼ cup (35g) cornflour (cornstarch)

2 cups (200g) hazelnut meal (ground hazelnuts)

300ml eggwhites (approximately 8 eggs), at room temperature

3 cups (480g) icing (confectioner's) sugar, sifted

½ cup (125ml) single (pouring) cream, whipped to soft peaks

mocha mousse
½ cup (125ml) single (pouring) cream

¼ cup (10g) strong instant coffee granules

300g white chocolate, finely chopped

100g dark chocolate, finely chopped

6 egg yolks

2 eggwhites

1½ cups (375ml) double (thick) cream, whipped to soft peaks

Preheat oven to 120°C (250°F). Place half the cornflour and half the hazelnut meal in a bowl, mix to combine and set aside.
Place 150ml of the eggwhites (approximately 4 eggwhites) in the bowl of an electric mixer and whisk on high speed until stiff peaks form.
Gradually add half the sugar, 1 tablespoon at a time, scraping down the sides of the bowl.
Whisk for a further 2–3 minutes or until the mixture is thick and glossy. Add the cornflour mixture and whisk until just combined.

Using an 18cm plate as a guide, draw a circle on each of 3 pieces of non-stick baking paper. Place on 3 baking trays and divide the mixture evenly between the circles, using a palette knife to spread the mixture+.
Cook for 1½ hours or until the meringue is just crisp and dry. Remove and set aside.
Repeat process with remaining cornflour, hazelnut meal, eggwhites and sugar to create 6 discs in total. Set aside to cool completely.

To make the mocha mousse, place the cream and coffee in a heatproof bowl placed over a saucepan of simmering water, making sure the bowl doesn't touch the water.
Stir until the coffee begins to dissolve. Add the white and dark chocolate and stir occasionally until the mixture is smooth. Remove from heat and allow to cool slightly.

Add the egg yolks to the chocolate mixture and stir until well combined. Place the eggwhites in a bowl and whisk until soft peaks form.
Fold the eggwhites through the chocolate mixture until combined. Add the cream and whisk to combine. Refrigerate for 15 minutes to thicken slightly.

Line the base of a lightly greased 20cm round springform cake tin with non-stick baking paper. Line the sides with baking paper, leaving 5cm excess above the rim. Staple the sides together to secure.
Carefully loosen the meringue discs from the baking paper and place 1 meringue disc in the base of the tin.
Spoon a fifth of the mousse into the tin and top with a second meringue disc. Continue layering mousse and meringue discs, finishing with a layer of meringue. Refrigerate for 4 hours or until set.

Carefully remove the cake from the tin and peel away the baking paper. Smooth the sides with a warm palette knife and spread the sides lightly with cream to create a swirled effect. Serve. Serves 10–12.
+ Make sure to turn the baking paper over before spreading, so the pencil outline doesn't transfer onto the meringue. If the meringues expand more than 20cm, simply trim the edges with a small serrated knife to allow them to fit in the cake tin.
donna hay team
Hi Lea! Instead of coffee we suggest 1 tablespoon of cocoa into the same amount of water. Enjoy!
Lea Genlik
If you are not a fan of coffee what can you replace the coffee with please? Cocoa dissolved into water perhaps?