vanilla, raspberry and watermelon pavlova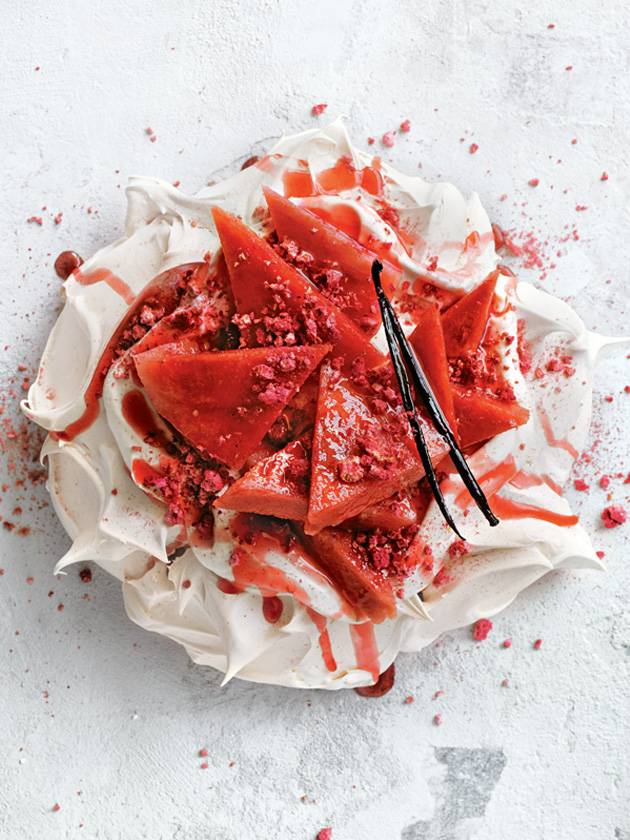 1 x quantity basic pavlova (see link under recipe)

1 cup (250ml) single (pouring) cream

1 cup (250g) sour cream

400g seedless watermelon, rind removed and cut into wedges
freeze-dried raspberries+, crushed, to serve
raspberry and vanilla syrup
¼ cup (60ml) water

2 tablespoons caster (superfine) sugar

1 teaspoon rosewater

2 teaspoons lemon juice

1 tablespoon freeze-dried raspberries+

1 vanilla bean, split and seeds scraped

While the pavlova is cooling, make the raspberry and vanilla syrup. Place the water, sugar, rosewater, lemon juice, raspberries, vanilla seeds and vanilla pod in a small saucepan over high heat. Stir to combine and bring to the boil. Reduce the heat to medium and cook, stirring, for 4 minutes or until syrupy. Transfer to a small bowl and refrigerate until cold.
Place the cream and sour cream in the bowl of an electric mixer and whisk until stiff peaks form. Top the pavlova with the cream mixture and the watermelon. Drizzle with the raspberry and vanilla syrup, adding the vanilla pod for decoration if you like, and sprinkle with crushed raspberry to serve. Serves 6.
+ Find freeze-dried raspberries in the health food aisle of supermarkets and specialty grocers.
There are no comments for this entry yet.