self-saucing chocolate puddings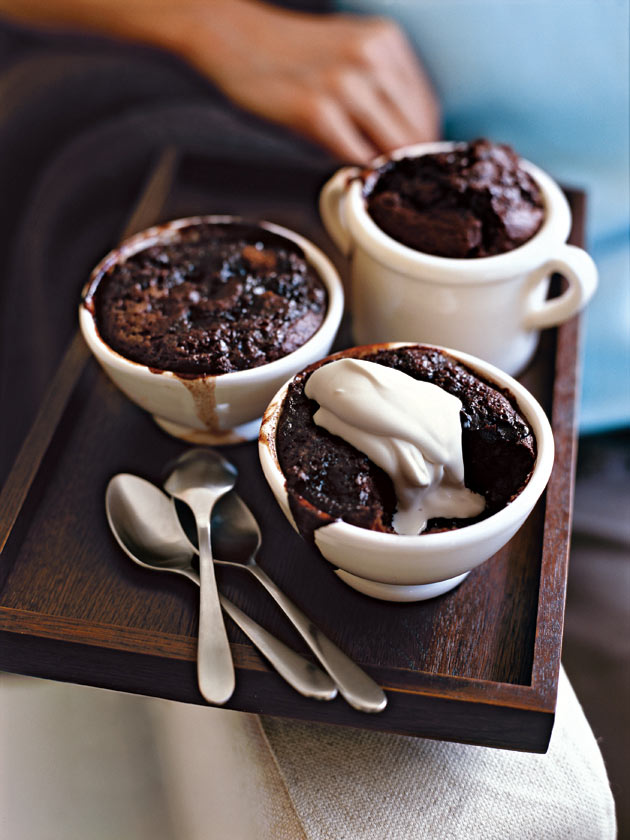 ½ cup (75g) plain flour
1½ tablespoon hazelnut meal
¼ cup (45g) brown sugar
1½ teaspoon baking powder
3½ tablespoons cocoa powder, sifted
½ cup (125ml) milk
35g butter, melted
1 egg, lightly beaten
1 teaspoon vanilla extract
½ cup (90g) brown sugar, extra
1 cup (250ml) boiling water

Preheat oven to 180°C (355°F). Sift the flour, hazelnut meal, sugar, baking powder and 2 tablespoons of cocoa into a bowl. Add the milk, butter, egg and vanilla and mix well to combine.
Spoon into 4 x 1 cup-capacity (250ml) oven-proof dishes and place on a baking tray.
Place the extra sugar and remaining cocoa in a bowl and mix to combine. Sprinkle over the puddings and pour over the water. Bake for 12–15 minutes or until the tops are firm. Makes 4

Photography: Chris Court
donna hay team
Hi Esther, this recipe is best made and cooked straight away, otherwise the batter will loose its light and fluffy texture. Happy baking! the dh team
Esther Rolfe
Can you make the batter ahead of time and cook it the next day?
ingeandsteve@gmail.com
A really easy but delicious dessert!!
donna hay team
Hello Janet, after sprinkling the extra sugar and remaining cocoa over the mixture, you pour the boiling water over the puddings, as this will help create the sauce. Happy cooking! The DH team x
Janet Hanigan
Quick question… are you meant to put the boiling water over the puddings or in the base of the tray?
Marissa McArthur
This is a favourite recipe of ours. I often play around with it, experimenting with different nut meals or using a liqueur such as frangelico instead of the vanilla. It's always delicious and we recently discovered they even work well reheated from the fridge.
Suzie Wise
Super easy and really yummy!!!!