steamed Christmas pudding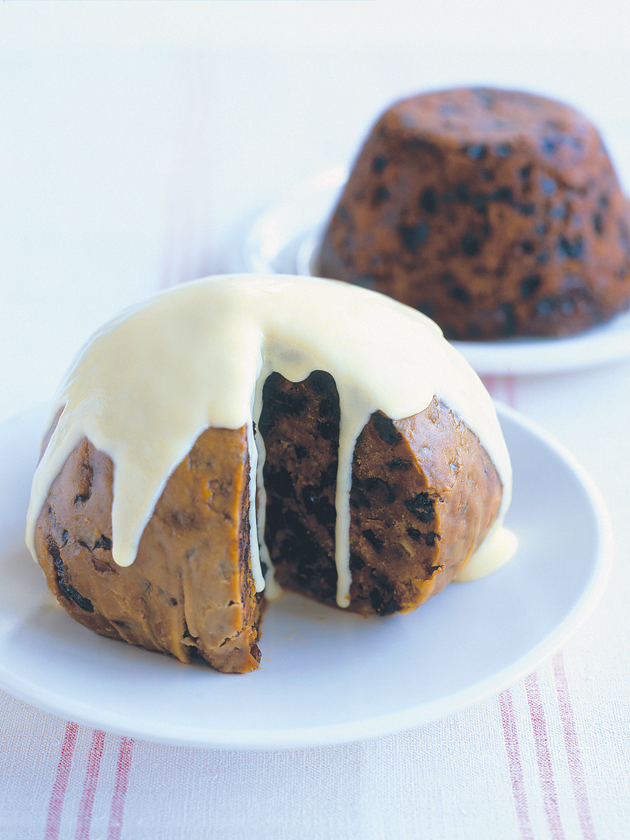 150g sultanas
150g currants
1 ⅔ cups (250g) raisins, halved
150g pitted dates or prunes, chopped
125g mixed candied peel
½ cup (125ml) brandy or sherry
250g butter
¼ cup (45g) brown sugar
¼ cup (55g) white sugar
3 eggs
85g slivered almonds
1 cup (150g) plain (all-purpose) flour
1 teaspoon ground cinnamon
1 teaspoon mixed spice
250g breadcrumbs
150ml milk

Place the sultanas, currants, raisins, dates, peel and brandy in a large bowl and allow to soak for at least 4 hours or overnight.

Beat the butter and brown and white sugar in an electric mixer until light and creamy. Add the eggs and beat well. Place the butter mixture in a large bowl with the sultana mixture, almonds, flour, cinnamon, mixed spice, breadcrumbs and milk. Mix until well combined. Spoon into a greased 2-litre capacity pudding basin. Cover mixture with a round of greased non-stick baking paper.

Place a 2-layer piece of aluminium foil over the top of the pudding basin and tie tightly with string. Place in a saucepan of boiling water (the water should come halfway up the side of the basin). Boil, covered, for 7 hours or until cooked through. Do not let the water boil dry – top up the pan with boiling water when necessary.

To check whether the pudding is cooked, remove from saucepan (wear oven mitts to protect your hands), lift foil and test with a skewer. Re-tie tightly if returning to the saucepan. Store in the fridge for up to 3 months. To reheat, boil, covered, for 30 minutes. Serve with warm brandy custard. Serves 6–8.

Karen Bell-Towers
Also interested to see if you can cook in slow cooker.
Mariel Keneally
Could this be cooked in a slow cooker or has any tried to do that? Just wondering for how long and temp on low or high? Thanks