blackened salmon
with creamy yoghurt celeriac salad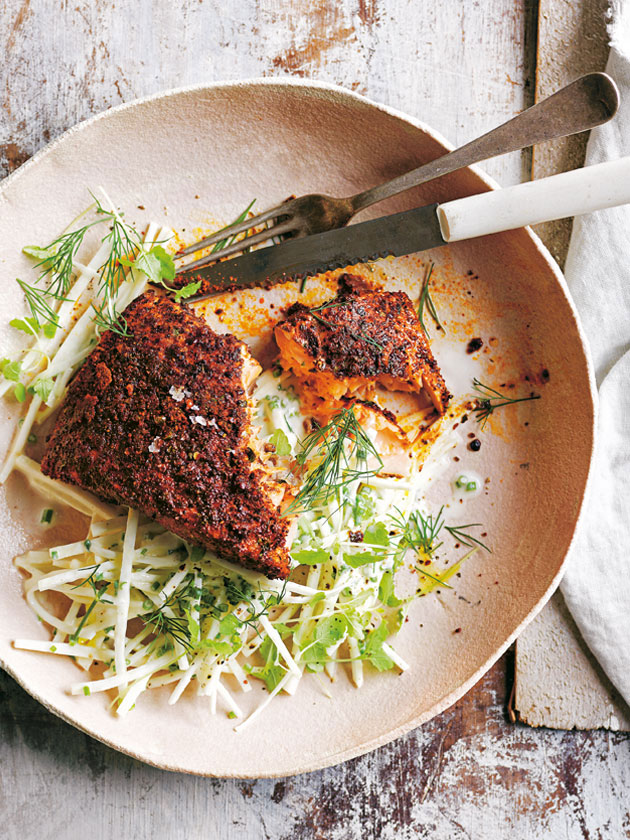 ¾ cup (210g) natural Greek-style (thick) yoghurt

1 tablespoon Dijon mustard

½ teaspoon sea salt flakes

¼ cup finely chopped chives

700g celeriac (celery root), peeled and shredded

¼ cup dill sprigs

blackened salmon
2 tablespoons smoked paprika

2 tablespoons sumac

¼ teaspoon cayenne pepper

2 cloves garlic, crushed

¼ cup oregano leaves, finely chopped

½ teaspoon cracked black pepper

4 x 180g skinless salmon fillets

1 tablespoon extra virgin olive oil

micro (baby) lemon balm leaves, to serve

Preheat oven to 180°C (350°F). Place the yoghurt, mustard, salt, chives, celeriac and half the dill in a large bowl. Toss to coat.

Place the paprika, sumac, cayenne pepper, garlic, oregano and pepper on a tray and mix to combine. Press all sides of the salmon into the mixture to coat.

Place the salmon on a large oven tray lined with non-stick baking paper. Drizzle with the oil and cook for 10 minutes or until the salmon is cooked to your liking.

Divide the celeriac mixture and salmon between plates and top with lemon balm, salt, pepper and remaining dill to serve. Serves 4.

mel pizzinga
This is my new go to. Grabbing literally a handful of things from the store, I can have a healthy and very delicious dinner on the table in 15 minutes!