raspberry soufflés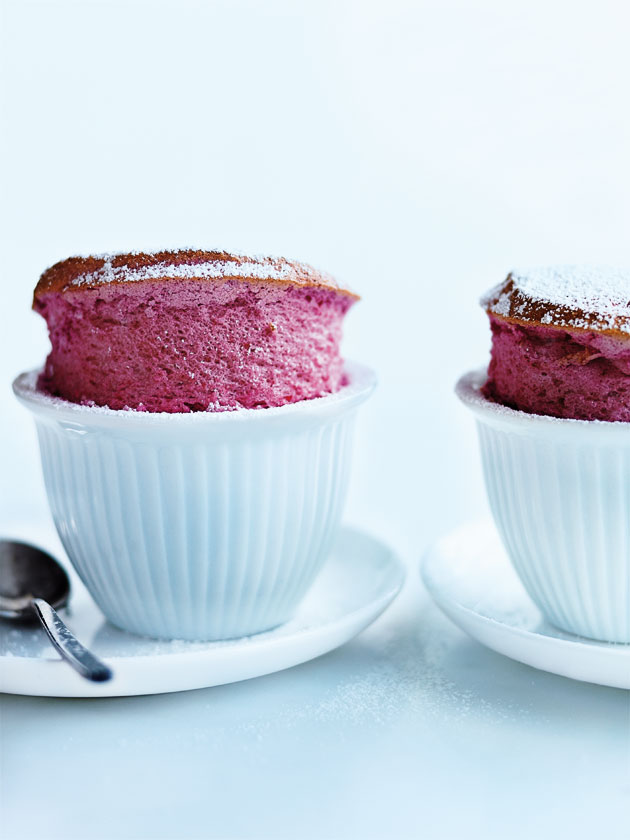 melted butter, for brushing
300g frozen raspberries
2 tablespoons lemon juice
¼ cup (55g) caster (superfine) sugar, plus extra, for dusting
1 tablespoon cornflour (cornstarch)
3 teaspoons water
5 eggwhites
⅓ cup (75g) caster (superfine) sugar, extra
icing (confectioner's) sugar, for dusting

Preheat oven to 180ºC (350ºF). Brush 4 x 1 cup-capacity (250ml) ramekins with butter, dust with sugar and place on a baking tray.
Place the raspberries in a saucepan over low heat and cook for 3–4 minutes. Blend raspberries until smooth. Pass the purée through a sieve and return to the pan over low heat. Add the lemon juice and sugar and stir until sugar is dissolved. Increase heat to medium and bring to the boil. Whisk to combine the cornflour and water, add to the raspberry purée and whisk for 1 minute. Refrigerate until cold.
Place the eggwhites in an electric mixer and beat until soft peaks form. Add the extra caster sugar in a thin stream and beat until glossy. Fold through the raspberry purée and spoon into ramekins. Bake for 12–15 minutes or until risen. Dust with icing sugar and serve immediately. Serves 4.

Sharon Couvret
Love love love big hit guests super impressed
Sharon Couvret
Best ever so easy, tastes great and looks amazing
Majella Kehoe
Amazing! So tasty and seriously impressive. Love them!
donna hay team
Hi Meetika, you can make the souffle mix in advance up until step 3. Do not do the egg whites until serving. The DH Team.
Meetika Sidhwani
Hey, can the souffle mix be made in advance..i mean in the morning for dinner operation??