apple and pecan cake
with hot maple butter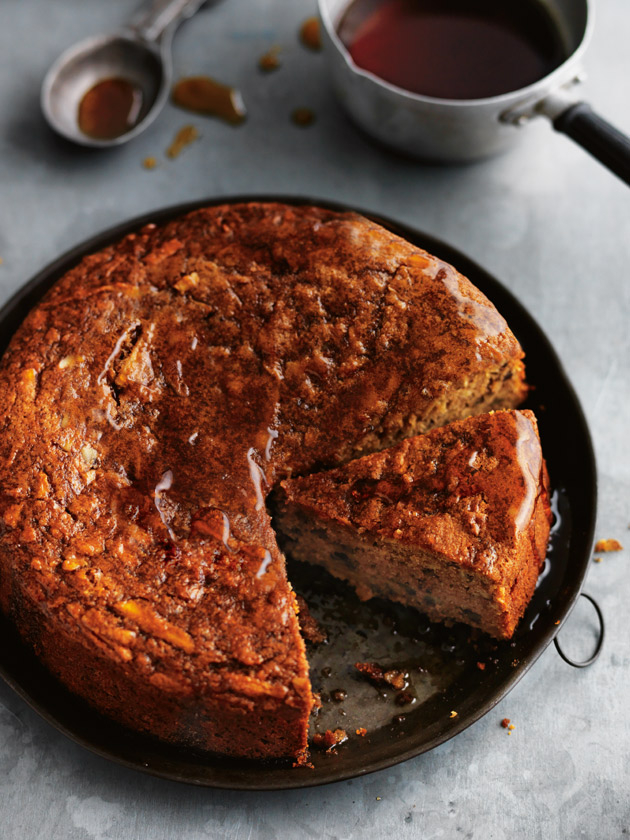 150g unsalted butter, melted
2 Granny Smith apples, peeled and grated
1 cup (175g) brown sugar
2 eggs
1½ cups (225g) self-raising flour
2 teaspoons baking powder
2 teaspoons ground cinnamon
2 teaspoons vanilla extract
½ cup (60g) pecans, finely chopped
HOT MAPLE BUTTER
½ cup (125ml) maple syrup
30g unsalted butter
Preheat oven to 160°C. Place the butter, apple, sugar, eggs, flour, baking powder, cinnamon, vanilla and pecan in a large bowl and mix until well combined.
Pour into a lightly greased 20cm springform cake tin lined with non-stick baking paper, and smooth the top. Cook for 50–55 minutes or until cooked when tested with a skewer.
To make the maple butter, place the maple syrup and butter in a small saucepan over high heat. Stir until the butter is melted and the mixture is smooth. Pour over the warm cake and slice to serve. Serves 8–10.
Kasturi Naicker
Moist and delicious. Was an instant favourite. Will be baking this again.
Alyssa Payne
Amazing! Everyone loved it! And so easy to make.
donna hay team
Hi Rheena, yes absolutely! Enjoy, the dh team.
Rheena Krishnan
Can we replace the pecans with walnuts?
Betty Penna
This cake is completely utterly amazing. Easy and looks and tastes a million bucks. I bake lots of cakes at work and they love cake - their comment about this cake? "This was the best one yet"! Thanks DH
RELATED VIDEO