cacao buckwheat crackles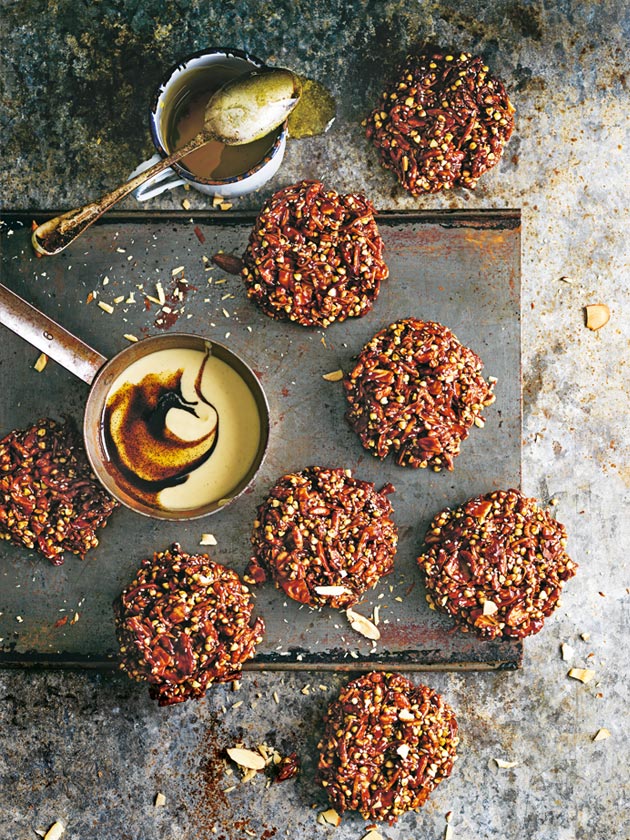 ¼ cup (25g) cacao or cocoa powder
½ cup (175g) honey
1 teaspoon vanilla bean paste
⅓ cup (80ml) melted coconut oil
2 tablespoons tahini
1 cup (15g) puffed brown rice
¾ cup (150g) buckwheat+
1 cup (80g) flaked almonds, toasted
½ cup (40g) shredded coconut
2 tablespoons white chia seeds
Place the cacao, honey, vanilla, coconut oil and tahini in a medium saucepan over low heat. Cook, stirring, for 3 minutes or until melted. Add the puffed rice, buckwheat, almond, coconut and chia seeds. Stir well to combine.
Place ¼ cupfuls of the mixture on 2 large baking trays lined with non-stick baking paper, pressing slightly to flatten into rounds. Place in the freezer for 30 minutes to set. Serve.
Makes 12
+ Buckwheat is the seed of a plant related to rhubarb. Loved for its wholesome benefits and nutty flavour, the little pyramid-shaped kernels are light brown or green in colour. Buy raw buckwheat in the health food aisle of most supermarkets and at health food stores.
TIPS:
Keep these crackles in the fridge or freezer in an airtight container for up to 2 weeks.

Photography: William Meppem
There are no comments for this entry yet.