bocconcini-stuffed meatballs
with tomato sauce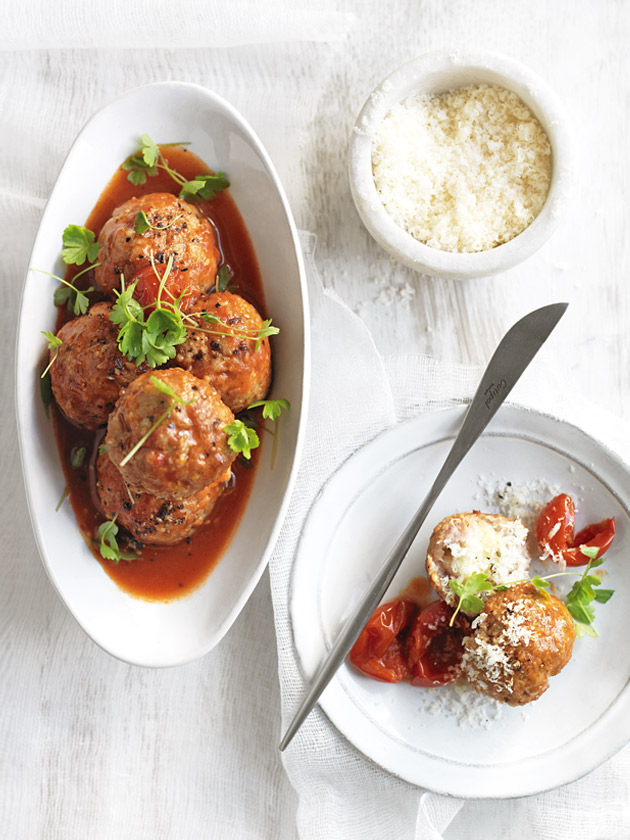 1 tablespoon milk

1 slice white bread, crust removed, torn

700g pork mince

1 teaspoon fennel seeds

1 teaspoon dried chilli flakes

4 cloves garlic, crushed

sea salt and cracked black pepper

24 baby bocconcini

2 tablespoons olive oil

2 x 400g cans cherry tomatoes

1 teaspoon caster (superfine) sugar

2 teaspoons red wine vinegar

finely grated parmesan, to serve

Place the milk and bread in a bowl and set aside for 5 minutes or until milk is absorbed. Add the pork, fennel, chilli, half the garlic, salt and pepper and mix well to combine.

Roll the mixture into 24 balls and press a bocconcini into the centre of each meatball. Heat 1 tablespoon oil in a large non-stick frying pan over high heat and cook the meatballs for 4–5 minutes, turning occasionally, or until cooked through.

Add the remaining oil and garlic and cook for 30 seconds. Add the tomatoes, sugar and vinegar and cook for a further 2–3 minutes or until sauce has thickened slightly. Sprinkle with parmesan to serve. Serves 6.

There are no comments for this entry yet.