pistachio and lemon-crusted lamb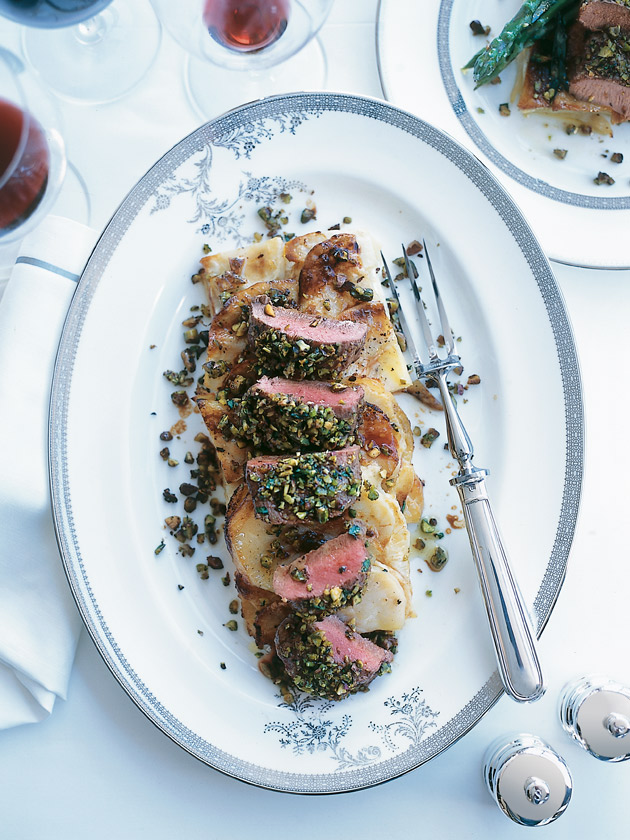 4 cloves garlic, crushed
2 tablespoons finely grated lemon rind
1 cup (140g) chopped pistachio kernels
⅓ cup chopped flat-leaf parsley leaves
⅓ cup chopped mint leaves
sea salt and cracked black pepper
8 x 300g lamb backstraps (boneless loin)
⅓ cup (80ml) olive oil

Preheat oven to 180ºC (355ºF). Place the garlic, lemon rind, pistachio, parsley, mint, salt and pepper in a bowl and stir to combine.
Tie the lamb with string and brush with half the oil. Press the pistachio mixture onto the lamb to create a crust and drizzle with the remaining oil.
Roast for 10–12 minutes or until the lamb is cooked to your liking. Serve with the celeriac gratin. Serves 12.

Jennifer Heath
I didn't mean to rate this 3+(not sure how it happened?)...it's a total 5+. Fantastic recipe. So easy, so delicious, so elegant. Thank you, Donna, for yet another amazingly simple dining experience!