blackberry swirl yoghurt ice-cream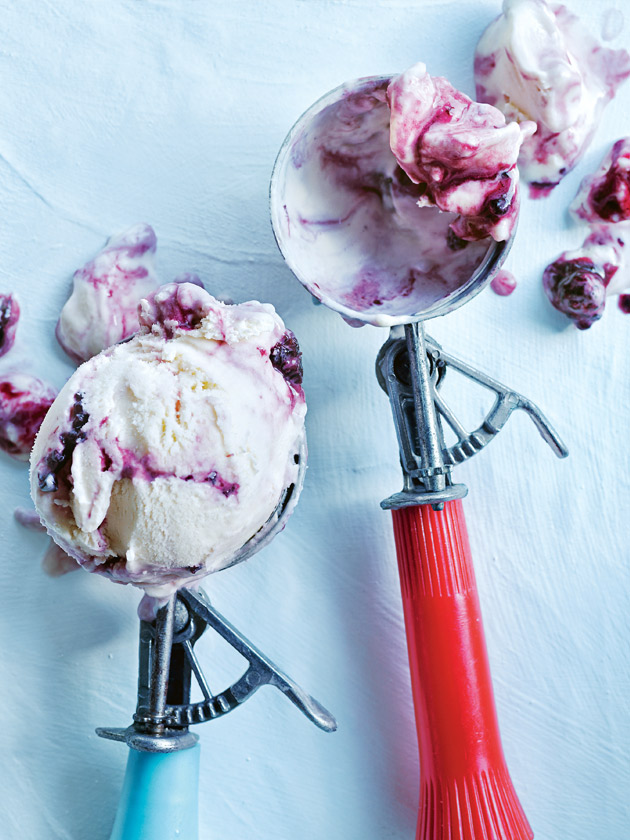 3 cups (750ml) single (pouring) cream

1 cup (280g) natural Greek-style yoghurt

1 cup (160g) icing sugar, sifted

1 tablespoon vanilla extract

½ cup (110g) caster sugar

1½ cups (225g) frozen blackberries

1 tablespoon lemon juice

Place the cream, yoghurt, icing sugar and vanilla in a large jug and whisk until the sugar is dissolved.

Divide the mixture between 2 large zip-lock bags, pressing out as much air as possible, and seal. Lay each bag flat on a baking tray and freeze for 2½ hours or until firm and just frozen.

While the ice-cream mixture is freezing, place the caster sugar, blackberries and lemon juice in a small saucepan over high heat. Cook, stirring occasionally, for 10 minutes or until syrupy. Refrigerate until cold.

Remove the bags from the freezer and, using your hands, gently bend each bag to break up the mixture into small pieces. Place 1 bag of the mixture in a food processor and process for 2–3 minutes or until just smooth, breaking up any large pieces with a spoon.

Spoon into a 2-litre-capacity loaf tin. Spoon over half the chilled blackberry mixture and swirl through, using a knife. Repeat with the remaining ice-cream mixture and blackberry mixture. Freeze for 2 hours or until firm. Scoop into bowls or cones to serve. Makes 1.7 litres.

There are no comments for this entry yet.