almond and haloumi crumbed schnitzels
with creamed spinach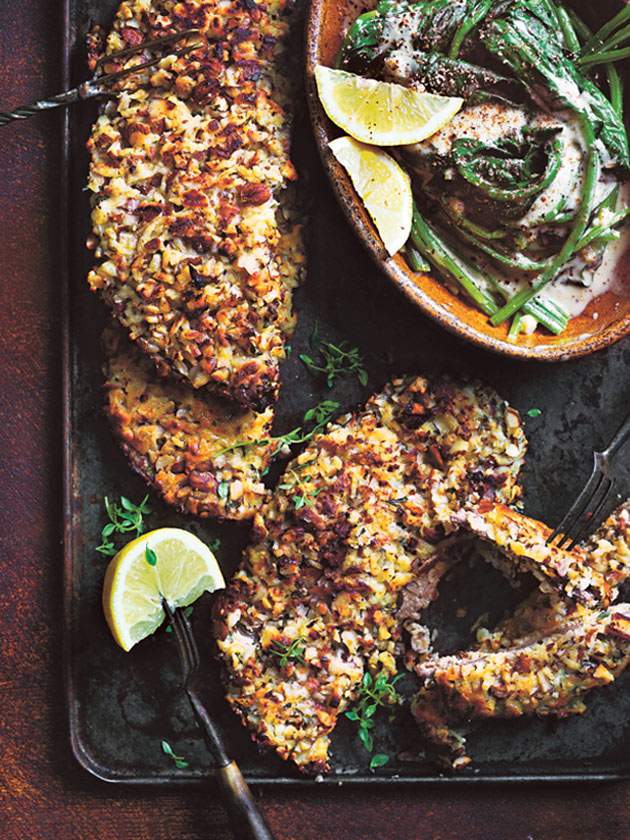 4 chicken schnitzels(600g)

¾ cup (90g) grated haloumi

1 cup (140g) natural sliced almonds, crushed

1 tablespoon thyme leaves, finely chopped

sea salt and cracked black pepper

1 tablespoon Dijon mustard

1 egg, lightly beaten

lemon wedges, to serve
creamed spinach
2 teaspoons extra virgin olive oil

4 cloves garlic, crushed

1 teaspoon finely grated lemon rind

1 teaspoon Dijon mustard

2 cups (500ml) unsweetened almond milk

2 x 200g bunches English spinach, rinsed and trimmed

½ teaspoon finely grated nutmeg

Preheat oven to 240°C (475°F). Using a meat mallet, pound the chicken until 2mm thick. Set aside. Place the haloumi, almond, thyme, salt and pepper on a tray and toss to combine. Place the mustard and egg in a small bowl and whisk to combine. Working one at a time, dip the chicken into the egg mixture and press into the almond mixture to coat. Place on a lightly greased oven tray and set aside.

To make the creamed spinach, heat the oil in a large non-stick frying pan over medium heat. Add the garlic, salt and pepper and cook, stirring, for 2 minutes. Add the lemon rind, mustard and almond milk and mix to combine. Bring to a simmer and cook for 6–8 minutes or until reduced. Add the spinach and cook for 1 minute or until wilted. Sprinkle over the nutmeg. Set aside and keep warm.

Place the schnitzels in the oven and cook, turning halfway, for 5 minutes. Serve the schnitzels with creamed spinach, pepper and lemon wedges. Serves 4.

There are no comments for this entry yet.